Summary
Ted Lasso star Nick Mohammed sparks speculation about season 4 by referencing a past spoiler and teasing fans to wait for future news.
Uncertainty surrounding Ted Lasso season 4 arises due to a lack of official announcements from the cast, crew, and Apple TV+.
Many have speculated that the show could continue, but without its titular star.
Ted Lasso star Nick Mohammed renews speculation regarding the status of the show's future, teasing season 4. When Ted Lasso season 3 ended earlier this year, the Apple TV+ sports comedy offered a sense of finality. The titular Ted (Jason Sudeikis) said goodbye to AFC Richmond and a montage previewed what the show's characters' lives looked like in a flash forward. There have also been several hints that Ted Lasso could continue, however, potentially without Sudeikis in the main cast.
Mohammed, who plays Nate Shelly, offered renewed speculation on the status of Ted Lasso season 4.
In the tweet, included above, the two-time Emmy nominee makes reference to the fact that he accidentally spoiled a Ted Lasso plot point in the past. He could be hinting that he's now spoiling a season 4 renewal, as well. The tweet reads: "One year to the day since #TedLasso wrapped. And one year to the day that I accidentally posted this spoilerd of Nate in AFC Richmond kit! Promise it won't happen again on season 4- now wait."
Is Ted Lasso Season 4 Happening?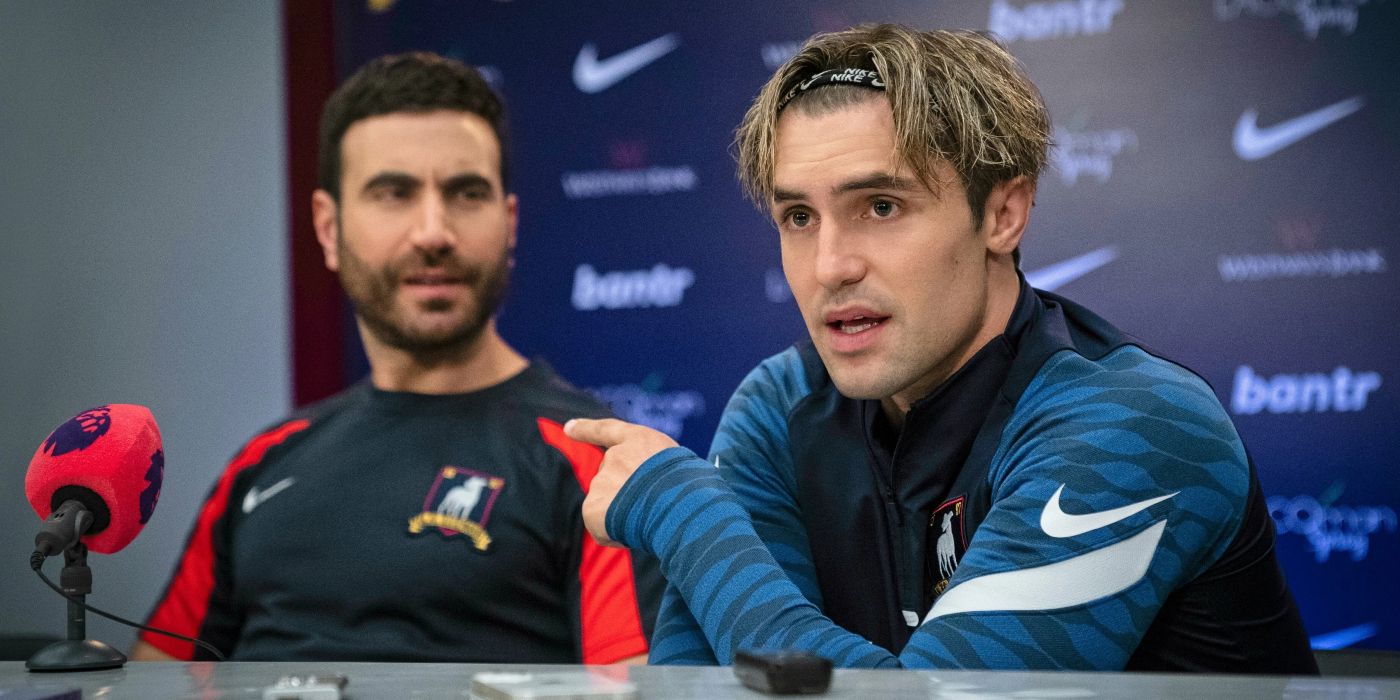 The continued uncertainty regarding Ted Lasso season 4 stems from lack of an official and unified response from the cast, crew, Apple TV, or the production companies that help make the show. Typically with a hit series, as the sports dramedy is, there will be an effort to promote its final season prior to its debut, as that typically nets a boost in terms of viewership and awards. If Ted Lasso season 3 really is the last, it is unusual that it was not explicitly advertised that way and that those involved with the show can't speak with much clarity about its future.
Related: Ted Lasso Cast & Character Guide
It seems to be the case that Apple TV+ is still ironing the details of the show's future, based on what reporters and analysts have shared. A huge sticking point is likely how the Emmy-winning comedy can continue without its main character. Sudeikis has said that Ted Lasso is over, but also noted that the crew could still continue without him. The actor's trajectory very much matches the football coach he portrays, in that it's been difficult for Sudeikis to film on-location away from his family.
This could mean that season 4 happens without its co-creator and headlining star. This falls in line with how, at times, the series looked as though it was building ground for potential spinoffs centered around the large Ted Lasso ensemble. With the writers and actors strikes officially over, more about what's in store for Apple's biggest TV hit could be coming soon.
Source: Nick Mohammed
Release Date:

2020-08-14

Cast:

Jeremy Swift, Phil Dunster, Hannah Waddingham, Nick Mohammed, Brendan Hunt, Jason Sudeikis, Brett Goldstein, Juno Temple, Toheeb Jimoh, James Lance

Genres:

Comedy, Drama, sport

Rating:

TV-MA

Seasons:

3

Summary:

Ted Lasso (Jason Sudeikis) is an American football coach who moves to England when he's hired to manage a struggling soccer team despite having no experience. With cynical players and a doubtful town, Ted will have to convince them that he's fit for the job. Ted Lasso has become one of Apple TV Plus' most successful shows, earning over 10 Primetime Emmys.

Writers:

Brendan Hunt, Joe Kelly, Bill Lawrence

Streaming Service(s):

Apple TV+

Showrunner:

Bill Lawrence