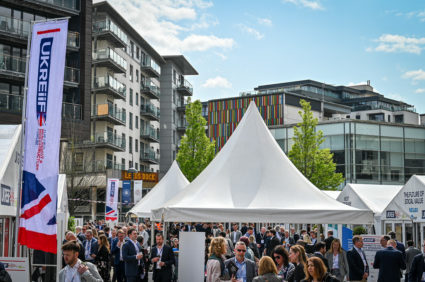 Roadnight Taylor, the UK's leading independent specialist grid consultancy, has confirmed an exclusive session partnership with The UK's Real Estate Investment & Infrastructure Forum (UKREiiF). The UKREiiF event is in partnership with Pagabo, and is set to take place between 21-23 May 2024, in Leeds.
Economic and housing growth are increasingly being thwarted by constraints on electricity distribution and transmission networks in a highly complex and seemingly unclear grid connections regime. This is challenging for Placemakers within local and national governments, and for others planning significant infrastructure developments.
Roadnight Taylor's specialist expertise in enabling both generation and demand projects through their timely grid connections minimises the risk for projects in an ever changing and demanding field. By representing authorities including the Welsh Government, Greater Cambridge Partnership, Buckinghamshire Council and Central Bedfordshire Council, and companies such as Amazon and Aldi, Roadnight Taylor have minimised risk in large scale mission critical connections for many development projects, which have gone on to provide necessary jobs and housing growth for communities across the UK.
Their extraordinary success perfectly aligns with UKREiiF's vision of facilitating constructive discussions and promoting investments that advocates sustainable development.
Speaking of their involvement, Hugh Taylor, CEO at Roadnight Taylor comments: "We are pleased to be supporting and participating at the UKREiiF Annual Event 2024. Roadnight Taylor wants to see a planet with the infrastructure it needs both to grow and to decarbonise its economies. We are committed to building the world's most influential and effective grid consultancy – and by being involved with UKREiiF, we can guide industrial, real estate and infrastructure projects towards toppling the most stubborn grid connections barriers, enabling mission-critical projects, and clearing a path for those that follow."
Amanda Griffiths, Director at UKREiiF said, "We are delighted to welcome Roadnight Taylor as our session partner for the UKREiiF Annual Event 2024. Their extensive experience and knowledge in grid connections and removing the barriers to developments, complements our mission to showcase sustainable practices within the real estate and infrastructure investment landscape."
Led by the UK's leading property events company Built Environment Networking and supported by some of the biggest UK property and infrastructure companies, the third annual UKREiiF event will be held in Leeds on 21-23 May 2024. The forum will attract inward investment, generate economic growth, and drive a more sustainable and inclusive culture within the property and construction industries.
For more information, please view the event here: https://www.ukreiif.com/event/ukreiif-2024/