The Big Picture
Ink Master is a highly anticipated show that showcases the imagination, creativity, and skills of world-class tattoo artists.
The competition is intense, with contestants having to think fast and smart to survive, resulting in nail-biting excitement for viewers.
Emotions often run high, leading to arguments over design ideas, adding passion and drama to the show.
Ink Master is back, and the battle lines are drawn. The official trailer was recently released, and the show looks spectacular. The show's 15th season will premiere on November 1st on Paramount +. Joel Madden, lead singer from the American rock band Good Charlotte is also back in the hot seat as host. Fifteen world-class tattoo artists will compete in the ultimate tattoo competition, where the winner will receive $250,000 and the prestigious title of Ink Master. One of the many exciting things about Ink Master is how it showcases the imagination, creativity, and skills of tattoo artists. Many of the challenges on the show require the contestants to develop designs they didn't pick themselves. Because of this, the contestants have to think fast and smart to survive. This usually ends in nail-biting excitement to see what new designs these all-star artists came up with.
Joining the judging panel this season are well-known tattoo artists, including three-time Ink Master champion, DJ Tambe. Alongside him will be returning judges Ryan Ashley, the first female tattoo artist to win the competition on season 8 in 2016, and celebrity tattoo artist Nikko Hurtado, a premier color realism artist. All the contestants on Ink Master are renowned experts in their field and will know what it takes to stand out from the crowd. Based on previous shows, emotions will often get the better of the competitors, usually with arguments over design ideas. Ink Master comes with passion, with brings drama, which keeps the viewers intrigued throughout the show.
Tattoo Artists Preparing to be Drawn Into Battle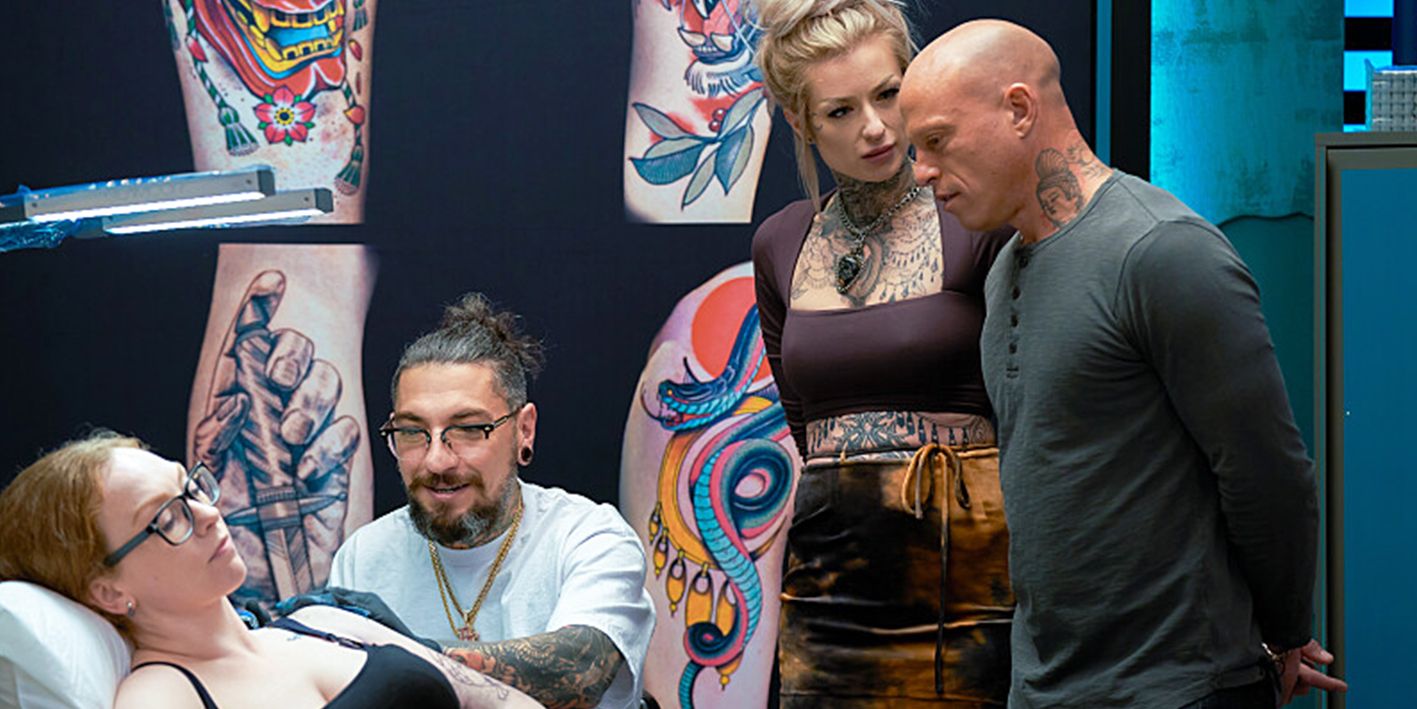 This season 15 tattoo artists are competing in various challenges that will ultimately see one person leaving the contest at the end of each episode. Unlike other reality shows, for example, cooking shows where the ingredients are mostly the same for everyone, on Ink Master each canvas is unique, with some being a lot more difficult than the other. The artists will have different challenges that test their tattooing skills as well as other artistic abilities. Flash Challenge is a round that usually doesn't involve tattooing at all. Instead, the contestants will test their artistic skills by creating a metalwork sculpture or an object made from toothpicks or coffee beans. The Flash Challenge is random, with little or no bearing on tattooing. Nevertheless, the winner of the flash challenge will get the first pick of tattoos to work on from the human canvas in the following Elimination Challenge. The Flash Challenge winner will also get to choose the human canvas for all the competitors, which often means the winner will give the most difficult design to their rival.
The Elimination Challenge sees the tattoo artists given a different challenge to complete, ranging from replicating a Japanese-style tattoo to creating a tattoo based on a work of art. The contestants are paired up with their human canvases and will have four to six hours to tattoo their designs. A winner is chosen, and one contestant is eliminated. At the end of all the rounds, one contestant will be declared the winner and will receive a $250,000 cash prize, and the title of Ink Master. Who will claim that coveted title? Well, we've got the lineup of the 15 tattoo artists who will be vying for that prize and preparing to be drawn into battle. Alongside the contestant profiles are their views on the contest and their specialties. The 15 contestants were speaking on Ink Master promotional trailer, Meet the Artists.
RELATED: The 10 Best 'Survivor' Winners, Ranked
Meet the Season 15 'Ink Master' Contestants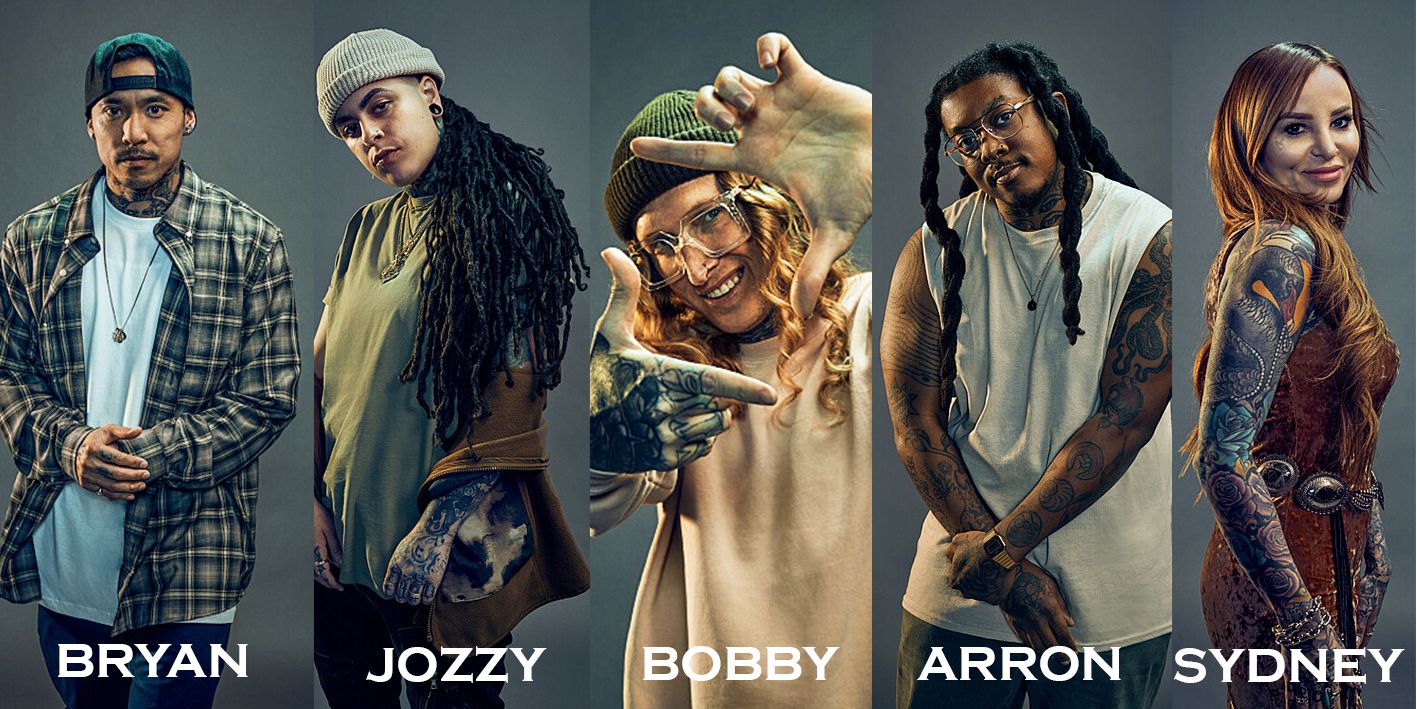 Bryan Black, 36, from southern California, has 9 years of tattooing professionally. "I like tattooing mostly in black and gray. Anything from traditional to realistic. What drew me to tattooing was getting tattooed and seeing the magic behind it," he says. "I don't know if I am the next Ink Master or not, but I'm here to play around and find out."
Jozzy Camacho, 30, from New York, says, "I have been tattooing for 11 years. I feel like I have something to show that no one else does. I specialize in remotely black and gray lady faces. Portraitures, a lot of lettering, and my hand-style calligraphy. I want the world to see it in a different format from a different kind of contestant."
Bobby Johnson, 35, born in San Diego, has been tattooing for 13 years and says, "I like bold things that catch your attention. I have always loved art, drawing, and creating things since childhood, and got into tattooing at the age of 17. I just want to do tattoos and be me."
Aaron Davis-Holloway, 29, from Florida, now living in Atlanta, tattooing for has been tattooing for four years and says, "My specialty is Afro-Americana, it's basically traditional tattoos but focusing on black people, black culture black history. I want black people to feel proud of their skin and know they can find dope black tattoo artists out to tattoo them. I want to show the world how great we are."
Sydney Dyer, 33, from Edmonton, Canada has been tattooing for 10 years and says, "My style is vintage girly. A lot of very fine lines, a lot of beadwork, a lot of circles, and a lot of designs that I hold my breath in order to pull off correctly. On Ink Master, I am hoping to survive with the big dogs and prove to people that I really have what it takes to be here."
Jessica Valentine, 40, from Long Island, New York, has been tattooing for 10 years, and says: "My specialty is Bubble-gum traditional. Ink Master is a marathon, not a sprint. I'm going to take every challenge day by day and do the best that I can to prove to myself that I've got what it takes to be an Ink Master.
Jenna Kerr, 38, from Stoke-On-Trent, UK says: "My specialties are ornamental; I like to tattoo anything that is pretty and flows. I'm here to be surrounded by other artists and to push myself a bit further. It's not just about the tattooing, it's the strategy, it's how clever you are, and that's why I'm the next Ink Master
Jon Mesa, 40, was born in Dominion Republic, but raised in New York City, and has tattooing for 16 years, and says, "I'm the next Ink Master because I am versatile and can do cleaner tattoos than anyone else in the room. My specialty is Japanese tattooing. I'm hoping to do some of the best tattoos I've ever done in my life on Ink Master."
Koral Ladna, 36, is originally from Ukraine, and says: "I have been tattooing for 11 years. Nobody has the creativity and the alternative vision to art that I do. I specialize in color and modern color tattooing, the style I call cosmic colorism. To compete in Ink Master, I wanted it to be documented to prove to my son you can believe in your dreams."
Joel Mejia, 25, from Manteca, California, says: "I've been tattooing for seven years. I live, eat, breathe art. This competition is made for me, and I am a competition. I represent a new artist that isn't this big, buff biker dude. I'm like fun, tatted, I'm just a vibe. I specialize in black and gray realism or anything with a lot of detail. The goal is to win."
Dave Patel, 44, Long Island, New York, has a specialty for anything black or gray and has been tattooing for seven years and says: "I was a graphic designer for 15 years before getting into tattooing. I first draw everything first by hand, then upload it to my computer, before showing it to my customer. It's a huge accomplishment to be invited to Ink Master, so I couldn't say no."
Charlene Ngo, 31, from Orange County California, says: "I've been tattooing for 12 years. Part of my style is the experience you get from the entire tattoo process. I want you to look back on it and say that was an amazing time. I want to be on Ink Master to compete with the best because I feel I am the best."
David Martinez, 32, from Philadelphia, has four years as a tattoo artist, specialty in illustrative black and line work, and says: "There was always a calling to be a tattoo artist. I studied graphic design and photography and soon after followed the path to becoming a tattoo artist. My goal as an artist is to be one of the most influential of my time."
Freddie Albrighton, 32, from the Midlands in the UK, has been tattooing for nine years with a specialty in solid color and says: "I learned my skills working with artists in London and Europe. I just want to showcase my artwork. I want to be able to spit my artistic vision out there and do it on someone."
Glenn Cuzen, 41, from Reading in the UK has been tattooing for 20 years and says: "My specialty is geometric dot work, where I'm building up dots and creating optical illusions on people's skin. What sets me apart is working with the muscle structure and making the tattoo become the person."