How to create a well-defined incident response plan
By David Chernitzky, Co-founder and CEO, Armour Cybersecurity
Cybersecurity incidents can result in significant financial losses, damage to reputation, and compromised customer data – which is especially devastating for small and medium businesses (SMBs) because they often lack the resources to properly react and rebuild after an attack. That's why it's crucial for SMBs to prioritize incident response preparedness. Organizations must have a well-defined incident response plan in place. But what does that look like in practice for SMBs?
 Create a Cybersecurity Incident Response Playbook
If your organization is hit by a cybersecurity attack, it's important to respond quickly, efficiently, and effectively. You need a plan. A cybersecurity incident response playbook is a step-by-step guide for handling potential security incidents. Creating an effective incident response playbook for a SMB must include the following steps:
Identify key stakeholders and their roles: Clearly define the responsibilities of internal teams, such as IT, legal, PR, and HR, as well as external partners and vendors.
Document incident response procedures: Document the necessary actions, communication protocols, and decision-making processes to ensure a swift and coordinated response.
Tailor playbooks to specific threats: Customize playbooks to address the specific cybersecurity threats most relevant to your organization, such as malware attacks, data breaches, or social engineering attempts.
Perform Regular Table-Top Exercises
But what good is a plan if you're not ready to execute it? This is where table-top exercises come in. Table-top exercises are simulated scenarios designed to test an organization's incident response plan. These exercises help identify gaps and areas for improvement, ensuring that the response plan is effective and the team is well-prepared. Be sure to conduct regular table-top exercises that accomplish the following:
Create realistic scenarios: Develop scenarios based on real-world threats and recent cybersecurity incidents to accurately reflect potential challenges.
Involve all relevant stakeholders: Include representatives from different teams and departments to promote cross-functional collaboration and enhance understanding of each team's role.
Evaluate and update the incident response plan: Use the outcomes of table-top exercises to identify weaknesses and update the incident response plan accordingly. Continuously refine and improve the plan based on lessons learned.
Foster Awareness with Management and Executives
Without support and buy-in from management and executives, your incident response plan isn't complete. In fact, with the rise of social engineering attacks targeting top personnel it's more important than ever to educate these key stakeholders.  Keep the following in mind when raising awareness with management and executives:
Communicate the potential impact: Present cybersecurity statistics and case studies to highlight the financial and reputational damage that can result from inadequate incident response preparedness.
Emphasize the importance of proactive measures: Stress the significance of investing in incident response capabilities as a proactive approach to mitigate risks rather than reacting after an incident occurs.
Encourage a culture of cybersecurity: Management and executives should lead by example when it comes to cybersecurity best practices, such as regular training, password management, and data protection.
Enhance Cybersecurity Controls
SMBs should focus on building cyber resilience to effectively manage and recover from cyber incidents. Consider the following measures:
Implement robust backup and recovery procedures: Regularly back up critical data and test the restoration process to ensure data availability in case of an incident.
Engage third-party cybersecurity experts: Consider partnering with external cybersecurity firms that can provide specialized expertise and support during incident response.
Stay informed about emerging threats: Continuously monitor the threat landscape, participate in information sharing forums, and leverage threat intelligence to stay ahead of evolving cyber threats.
New cyber threats are emerging every day, and smaller businesses are especially vulnerable to cybercriminals. In the event of a cyber incident — such as business email compromise, ransomware, or an attack on its supply chain — a rapid yet well-thought-out response makes all the difference. By taking proactive measures to mitigate risks and build cyber resilience, SMBs can strengthen their defenses and respond quickly to attacks, limiting damage to networks and compromises to data.
About the Author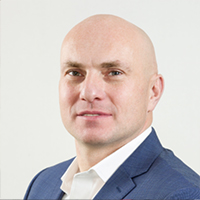 David Chernitzky is the co-founder and CEO of Armour Cybersecurity. David specializes in helping businesses protect their assets from cyber threats. He served as an officer in the elite technology unit of the Israeli Defense Forces Intelligence Corps and spent many years working for multinational enterprises in technology and business functions. For more information, visit https://www.armourcyber.io/