August 2023 marks the 60th anniversary of the great March on Washington. And the celebration of that momentous occasion would be incomplete without Bayard Rustin. Decades after he paved the way for a major turning point in American history, the story of the legendary socio-political activist and a key figure of the African American Civil Rights Movement finally gets the spotlight in the upcoming biopic, Rustin. The all-new historical biopic is directed by Tony-winning director George C. Wolfe, written by Julian Breece and Dustin Lance, and features Emmy-winning Colman Domingo as the titular civil rights leader, among a star-studded cast that features some of the most noteworthy names in film and television portraying real-life activists and leaders from that era.
Rustin tells the story of the civil rights pioneer, who shone as the right-hand man for Martin Luther King Jr. and built the foundation for the 1963 March on Washington. If Martin Luther King Jr. delivered the most powerful and precious speech in America's history, then Bayard Rustin was equally instrumental in making that happen through his persistent, non-violent demonstrations and mobilizing hundreds and thousands of people. Rustin dedicated his life to fighting for racial, social, and civil justice for hundreds of people and influenced the political and cultural framework of the nation. The upcoming film will focus on his journey from the small union offices to the mighty steps of the Lincoln Memorial, with a new and unexplored perspective. Premiered at the Telluride Film Festival this August, the biopic is slated for a theatrical release later this year. From its first look and trailers, it looks like the film has the potential to be award-worthy. And Domingo's award-winning works on stage and screen only go to support that expectation. So, while you wait for the film to hit the theaters and revisit an iconic moment in history, check out everything we know so far about Rustin, including the film's plot, trailer, release date, cast, and characters.
Editor's Note: This article was updated on October 21.
RELATED:8 Essential Performances by Colman Domingo From 'Zola' to 'Euphoria'
When Is 'Rustin' Coming Out?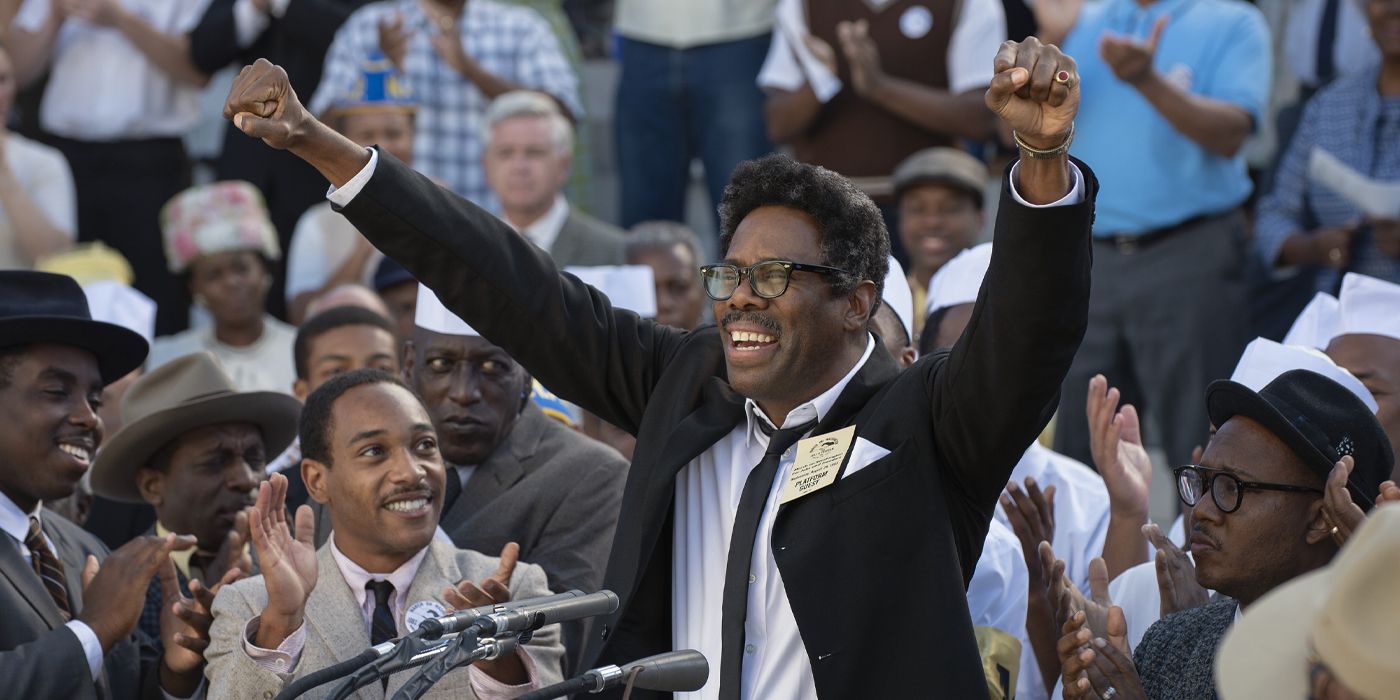 Rustin had its global premiere at the Telluride Film Festival on August 31, 2023, which was followed by its screening at the Toronto Film Festival on September 13, 2023.
The film will get its theatrical premiere on November 3, 2023, in select theaters across the United States, followed by a streaming release on November 17, 2023, on Netflix.
Where Can You Watch 'Rustin'?
You can watch Rustin across all platforms, beginning with its screening at the 2023 TIFF as a part of its special presentation. Otherwise, you can wait until the film's theatrical release on November 3, 2023. But if you would rather watch the biopic from the comfort of your home, then you can wait and catch it on its worldwide streaming premiere on Netflix on November 17, 2023.
Is There a 'Rustin' Trailer?
In the official trailer released by Netflix on August 28, the lesser-known story of Bayard Rustin comes to life. As the trailer shows, this historical biopic becomes the voice of the extraordinary man who challenges the biased social system and sets out to make history, which culminates into a monumental event. As a black, homosexual man in a divided nation, the political and social leader stood up against the government, challenged authority, and sought a smarter, better way to fight, leading Martin Luther King Jr. to the epic platform of March on Washington. The video opens straight to the plot where we see Rustin devising an "epic demonstration in the nation's capital" over eight weeks. From setting up fully functional campaign offices to amassing supporters, and activists, and encouraging King to a different approach to protest, through all odds and evens, Bayard Rustin takes the road no one had thought of taking before.
We got a new trailer for Rustin on October 19, showing us more of the story and heavily leaning into the potential awards positioning of the film. Showing the activist's efforts at organizing the historic March on Washington, the two-minute trailer sets up the movie to be a must-watch. See it in the player below.
Who Stars in 'Rustin'?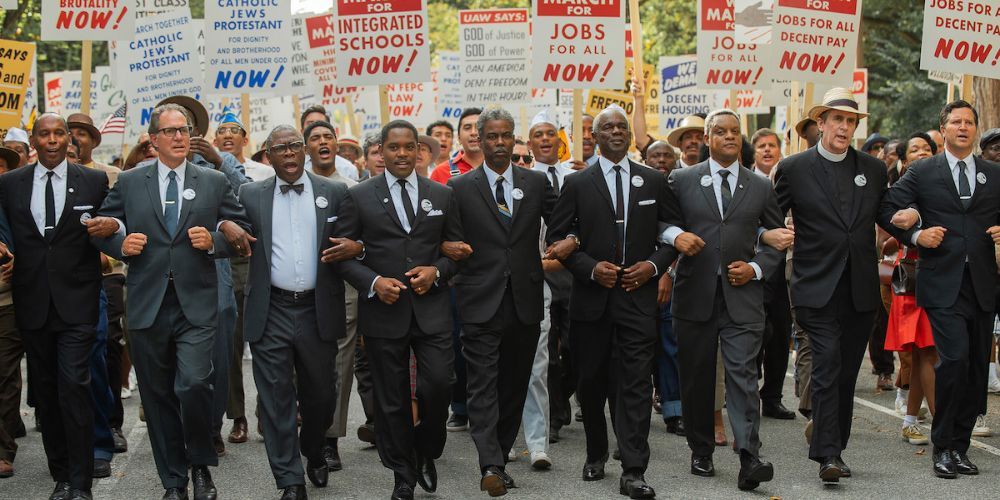 Wolfe and the team have put together a stellar cast list for Rustin, beginning with Emmy-winning and Tony-nominated actor Colman Domingo. Besides his breakthrough role in Fear the Walking Dead, Colman has also earned recognition for his work in films like Lincoln, Selma, Zola, If Beale Street Could Talk, and Ma Rainey's Black Bottom as well as television shows like The Big Gay Sketch Show and Euphoria, the latter of which earned him a Primetime Emmy for Outstanding Guest Actor in a Drama Series. He is next set to appear in the most-awaited upcoming film The Color Purple as well as Drive-Away Dolls.
Rustin's story cannot be told without that of Martin Luther King Jr., who is played in the film by Aml Ameen (Sense8). In other significant roles, Chris Rock (Death at a Funeral) stars as prominent civil rights activist Roy Wilkins; Jeffrey Wright (Westworld) as Baptist pastor and politician Adam Clayton Powell; Audra McDonald (The Good Fight) as civil and human rights activist Ella Baker, Glynn Turman (Fargo Season 4) as labor unionist and activist A. Philip Randolph; Da'Vine Joy Randolph (Only Murders in the Building) as legendary gospel singer Mahalia Jackson, CCH Pounder (Sons of Anarchy) as civil rights leader-educator-writer Anna Arnold Hedgeman, and Michael Potts (The First Lady) as labor organizer and civil rights activist Cleveland Robinson.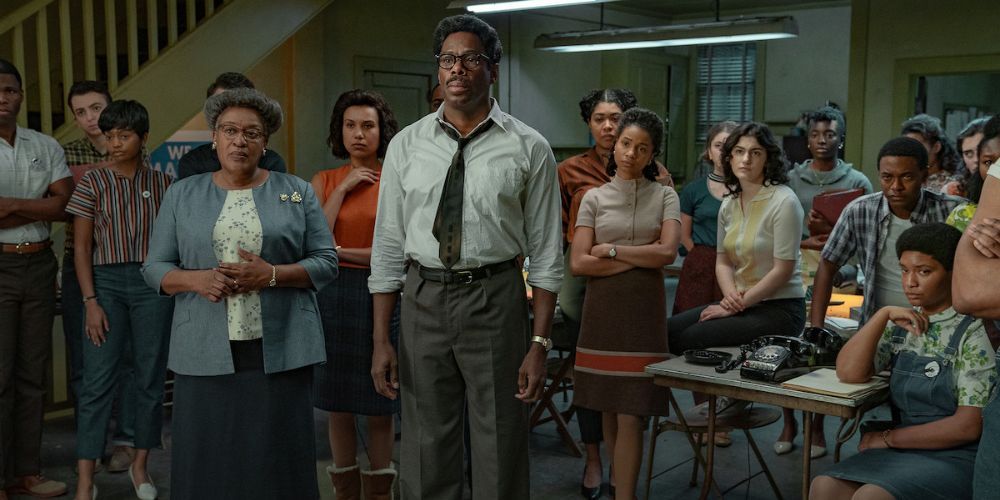 The film marks a reunion for Domingo, Turman, and Potts, who have all featured in Wolfe's previous film, Ma Rainey's Black Bottom. Additional supporting roles include Bill Irwin as A. J. Muste, Adrienne Warren as Claudia Taylor, Gus Halper as Tom, Johnny Ramey as Elias, and Carra Patterson as Coretta Scott King. Lilli Kay, Jakeem Powell, Jordan-Amanda Hall, Grantham Coleman, Jamilah Rosemond, Jules Latimer, Maxwell Whittington-Cooper, Frank Harts, Kevin Mambo, Cotter Smith, and Ayana Workman round up the rest of the ensemble cast.
Who Is Making 'Rustin'?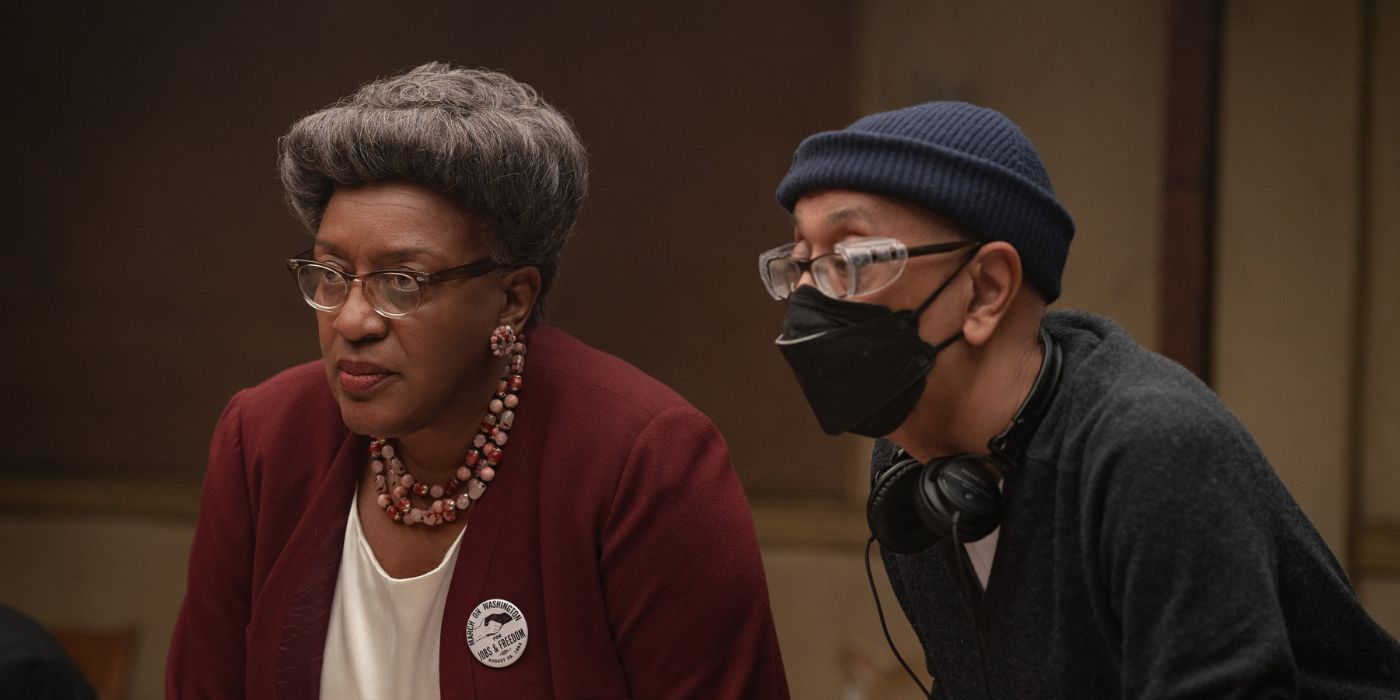 Rustin comes from three-time Tony-winning playwright, theater, and film director, George C. Wolfe. He is best known for directing the Broadway play Angels in America: Millennium Approaches for which he won the Tony Award for Best Direction. He also wrote and directed the film The Immortal Life of Henrietta Lacks and the 2020 Academy Award-winning film, Ma Rainey's Black Bottom. Julian Breece and Dustin Lance Black pen the script from Breece's story about Bayard Rustin. He is best known for previously writing for shows like When They See Us and Harlem, while Lance is a screenwriter, director, producer, and LGBT rights activist, who is most recognized for writing the films Milk and J. Edgar.
Rustin is executive produced by Barack and Michelle Obama under their production banner Higher Ground Productions along with Mark R. Wright, Alex G. Scott, David Permut, Daniel Sladek, and Chris Taaffe, with Academy Award winner Bruce Cohen (Milk) and Higher Ground's Tonia Davis serving as producers.
Branford Marsalis, who has previously collaborated with Wolfe in Ma Rainey's Black Bottom composes the music for Rustin, while multi-Grammy Award-winning Lenny Kravitz writes and performs an original song, "Road to Freedom" for the film.
RELATED:Colman Domingo Emotionally Breaks Down His Chadwick Boseman 'Ma Rainey' Fight Scene
What Is 'Rustin' About?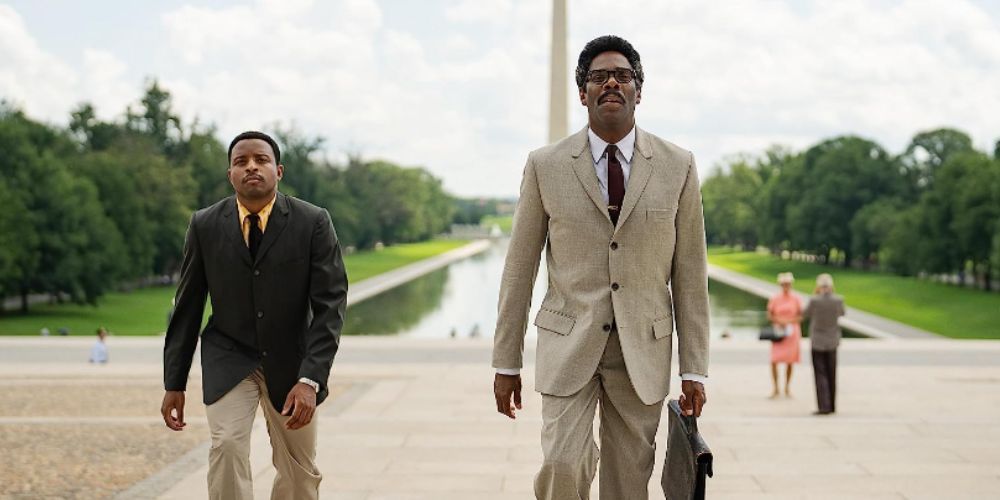 Here's the official synopsis of the biopic, as released by Netflix,
The architect of 1963's momentous March on Washington, Bayard Rustin was one of the greatest activists and organizers the world has ever known. He challenged authority, and never apologized for who he was, what he believed, or who he desired. And he did not back down. He made history, and in turn, he was forgotten. Rustin shines a long overdue spotlight on the extraordinary man who, alongside giants like the Reverend Martin Luther King Jr., Adam Clayton Powell Jr., and Ella Baker, dared to imagine a different world and inspired a movement in a march toward freedom.
When Is 'Rustin' Filming?
The filming for Rustin took place in Pittsburgh, Pennsylvania in November 2021.