Summary
Fans dislike 90 Day Fiancé star Angela Deem due to her bad habits, such as excessive smoking, despite undergoing surgeries to improve her health.
Angela's invitation to a Breast Cancer Awareness event was met with criticism from fans who believe she is not the right guest due to her smoking history.
Angela has faced backlash on Instagram multiple times for her anger, use of filters, collaborations with other men, and her appearance, but she has developed a thick skin and does not pay attention to the haters.
90 Day Fiancé star Angela Deem's latest Instagram collaboration has been getting her more hate from fans. Angela, a 56-year-old from Georgia, is a former hospice care personnel who became a TV sensation after her 90 Day Fiancé: Before the 90 Days season 2 debut. Angela's toxic relationship with Michael Ilesanmi from Nigeria has been one of the most discussed relationships in the franchise. Also, her loud and brash personality has landed Angela as one of the franchise's most loathed cast members.
Angela has expressed her insecurity about her age difference from Michael in every argument they have. However, that's not the reason fans dislike her. It's also her bad habits, such as her excessive smoking. Angela is a chain smoker who picked up the habit when she was a teenager. Angela has even tried hypnosis on the show to quit smoking, but it didn't work. Angela refused to quit despite undergoing risky surgeries such as a gastric sleeve surgery and a breast reduction. She was back to lighting up cigarettes as soon as she was done with the procedures.
Related: 20 Best Reality TV Shows Right Now
Angela collaborated with Molly Hopkins' business, LiviRae Lingerie, earlier this month to announce an exciting event. Angela was invited as a special guest for their upcoming Breast Cancer Awareness event on October 14, 2023. The fundraiser held in Kennesaw, Georgia, guaranteed a full day of fun, empowerment, and fabulous lingerie, along with a "celebrity meet and greet" where fans can meet and interact with Angela. "I love everything about this event! I will try my hardest to stop by!!!" a fan wrote. "I love that y'all are doing this for breast cancer awareness," added another.
Angela Has Been Unsuccessful At Quitting Smoking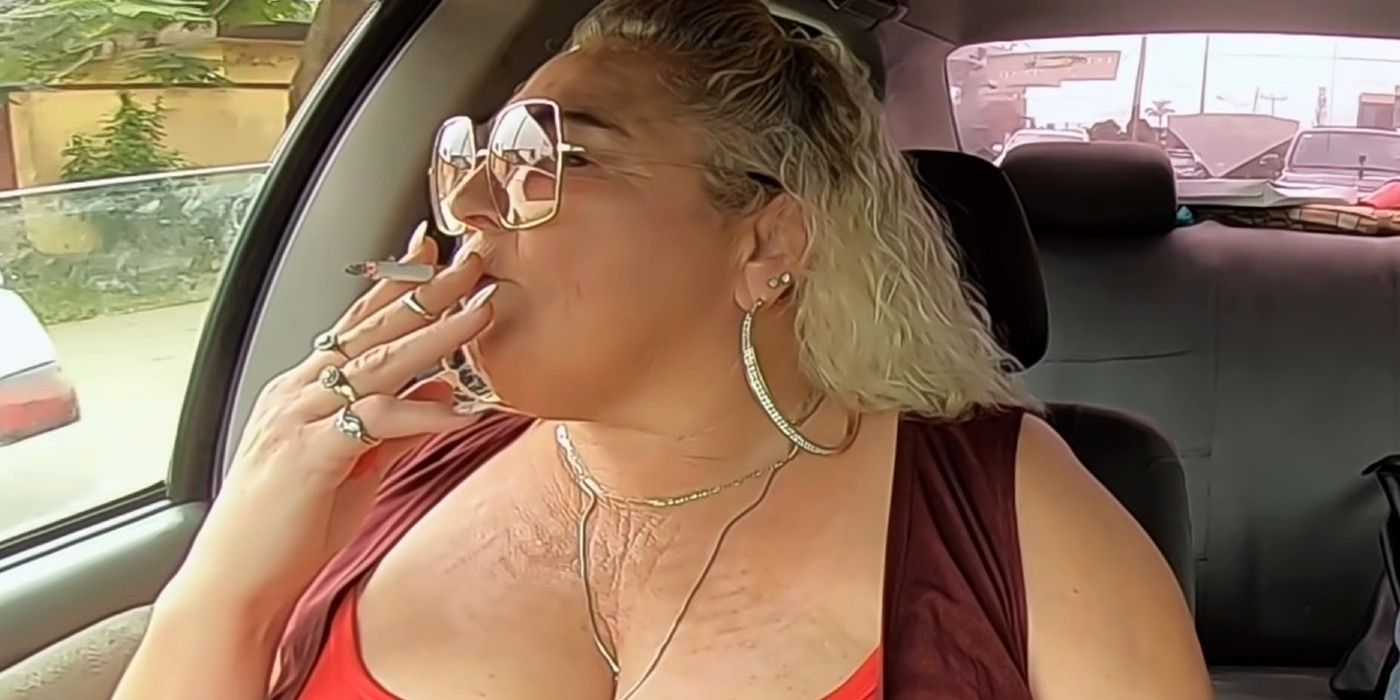 However, Angela was not the right guest to be invited to an event about Breast Cancer awareness, according to some of her fans. "No thank[s] to seeing Angela," wrote one fan (via TVSeasonSpoilers.) Someone else added, "Hard pass" and one fan wrote, "NOPE NO THANKS ANGELA REALLY???." Angela has been a known smoker, which has been addressed on 90 Day Fiancé. Angela has been advised by medical professionals to give up smoking several times on camera, but their efforts didn't work. Considering her history, not everyone was impressed with Angela being invited to something where breast cancer awareness would be discussed.
Why Angela Always Lands In Trouble On Instagram
Angela has been called out on her Instagram page several times and for many reasons. There are times when Angela's anger towards Michael has brought her immense hatred from fans, and she's resorted to calling them mean names on the social media platform. Angela is mocked for the senseless filters that she uses on her page. She also posts collaborations with mystery men, such as her "crush" Billy, and ends up being criticized because of how Angela treats Michael if he even thinks of creating an Instagram page.
Angela's appearance has been made fun of repeatedly, from her hair extensions to a dark mark she has developed on her lip. Not everyone is a fan of her being with Michael even if the couple has decided to fix their relationship in the new season of 90 Day: The Last Resort. All the criticism that has come her way helped Angela develop a thick skin and enabled her to not pay attention to the haters. However, it appears as if the 90 Day Fiancé star can't get anything right on her Instagram.
Sources: Angela Deem/Instagram, TvSeasonSpoilers, Angela Deem/Instagram