Summary
Sandler's performance in "Uncut Gems" showcases his dramatic talent as Howard Ratner, a self-destructive gambling addict who drives away everyone who cares about him. Despite his flaws, it's hard not to feel sorry for him.
In "50 First Dates," Sandler's character Henry Roth shows persistence and dedication in winning over Lucy, a woman with short-term memory loss. While initially manipulative, Henry's love and devotion make him an emblem of true love.
As Zohan Dvir in "You Don't Mess With The Zohan," Sandler brings the audience a hilarious and endearing protagonist. Zohan's journey from elite Israeli counter-terrorist to hairstylist gives the movie both humor and heart.
The Adam Sandler everyman charm has made him one of the most beloved movie stars in Hollywood, and here are the most iconic Adam Sandler characters. Sandler quickly became such a bankable actor with a guaranteed audience early in his career in the '90s, and general audiences never once got fatigued by the goofy comedian. The best Adam Sandler movies work because of the SNL alum's instant likability, and his glowing personality is always reliable at the box office. In total, Sandler has grossed billions of dollars worldwide, and that has inevitably led to a number of iconic Adam Sandler characters.
However, the actor doesn't always play a lovable goofball that the audience can root for. The Sandman often plays characters with serious anger issues, characters who constantly lie to people, or immature characters who are stuck in a state of arrested development. Some of them are so immature that they literally can't graduate from middle school. Some of Sandler's characters, like hopeless romantic Robbie Hart and unwavering do-gooder Longfellow Deeds, are more likable than others, such as serial manipulator Dr. Danny Maccabee and self-serving disgraced quarterback Paul "Wrecking" Crewe. However, they all have one thing in common, they're totally iconic.
Related: Every Movie Role Adam Sandler Almost Played
15
Howard Ratner – Uncut Gems (2019)
"This is how I win."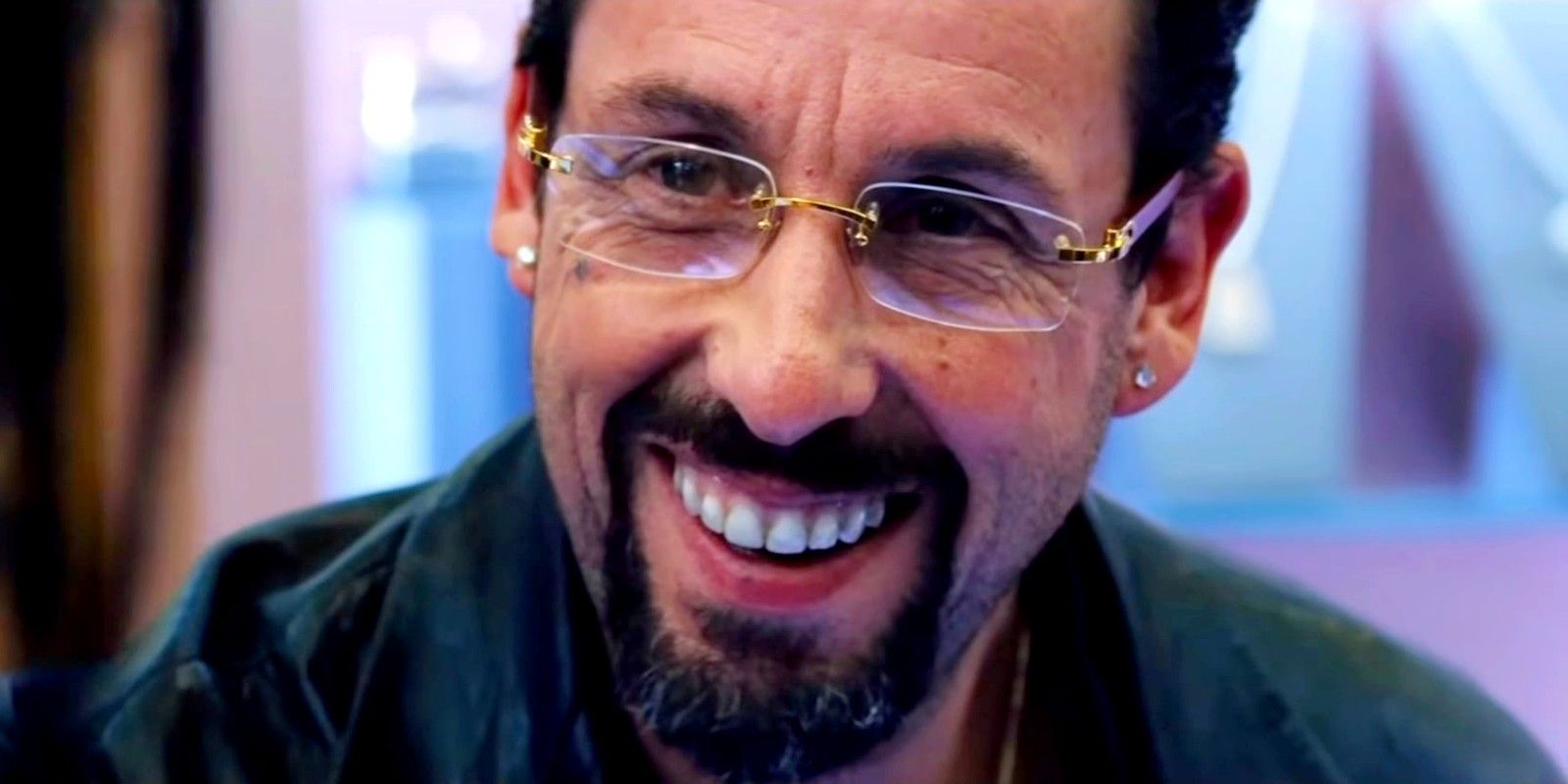 A crime thriller from Josh and Benny Safdie, Uncut Gems follows New York jeweler Howard Ratner (Adam Sandler) as his gambling addiction forces him to associate with increasingly dangerous individuals. After receiving an incredibly rare black opal, Howard believes he can finally free himself of his mounting debts, but not without engaging in one final high-stakes balancing act while fending off violent loan sharks.
Release Date

December 13, 2019

Director

Josh Safdie, Benny Safdie

Cast

Jonathan Aranbayev, Eric Bogosian, The Weeknd, Idina Menzel, Noa Fisher, Kevin Garnett, Tommy Kominik, LaKeith Stanfield, Jacob Igielski, Adam Sandler, Julia Fox, Keith Williams Richards

Runtime

134 minutes
Sandler gave one of his finest dramatic performances in the Safdie brothers' intense crime thriller Uncut Gems. Howard Ratner is a self-destructive gambling addict who can't help himself, and he's unlike any character Sandler has ever played. Even when Howard is ahead, he doubles down. Howard sees himself as an underdog, as he explains to Kevin Garnett, "This is how I win." He drives away everyone who cares about him, from his wife to his mistress. However, even though Howard has all these bad habits, it's impossible not to feel sorry for him when he makes one mistake after another.
14
Henry Roth – 50 First Dates (2004)
"Sorry I'm not better looking."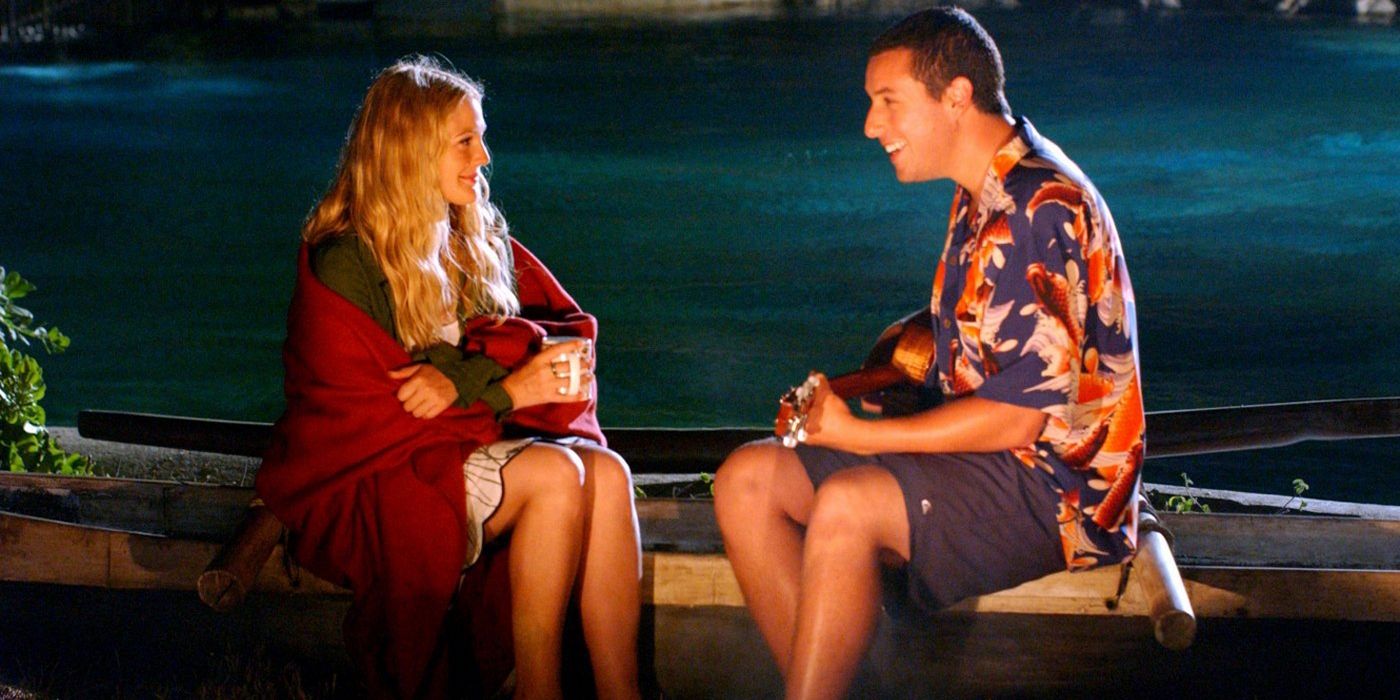 Adam Sandler and Drew Barrymore star in the 2004 romantic comedy 50 First Dates, which revolves around a womanizer's attempts at winning over an amnesiac woman's heart over and over, every day of her life. Frequent Adam Sandler collaborators Rob Schneider and Kevin James are part of the cast alongside Sean Astin, Dan Aykroyd, and Maya Rudolph.
Release Date

February 13, 2004

Director

Peter Segal

Cast

Adam Sandler, Drew Barrymore, Peter Segal

Runtime

99minutes
Set against the picturesque backdrop of Hawaii, 50 First Dates sees marine veterinarian Henry fall in love with Lucy, a girl with short-term memory loss who always wakes up with no memory of what happened the previous day. What makes Henry so iconic is his persistence and dedication to making Lucy fall in love with him every single day with his creativity, such as constructing a special videotape and building unique waffle houses.
The scenes where Henry stages first dates or the poignant scene where he sails away to spare her the pain of forgetting have solidified Henry's place in pop culture as an emblem of true love and devotion. He loses points on the likeability front for his initial ploy of manipulating vacationers on Hawaii to sleep with him so he can enjoy care-free, non-committal sex ona regular basis.
13
Jill Sadelstein – Jack & Jill (2011)
"Maybe God wouldn't have given you a rat face if you believed in him."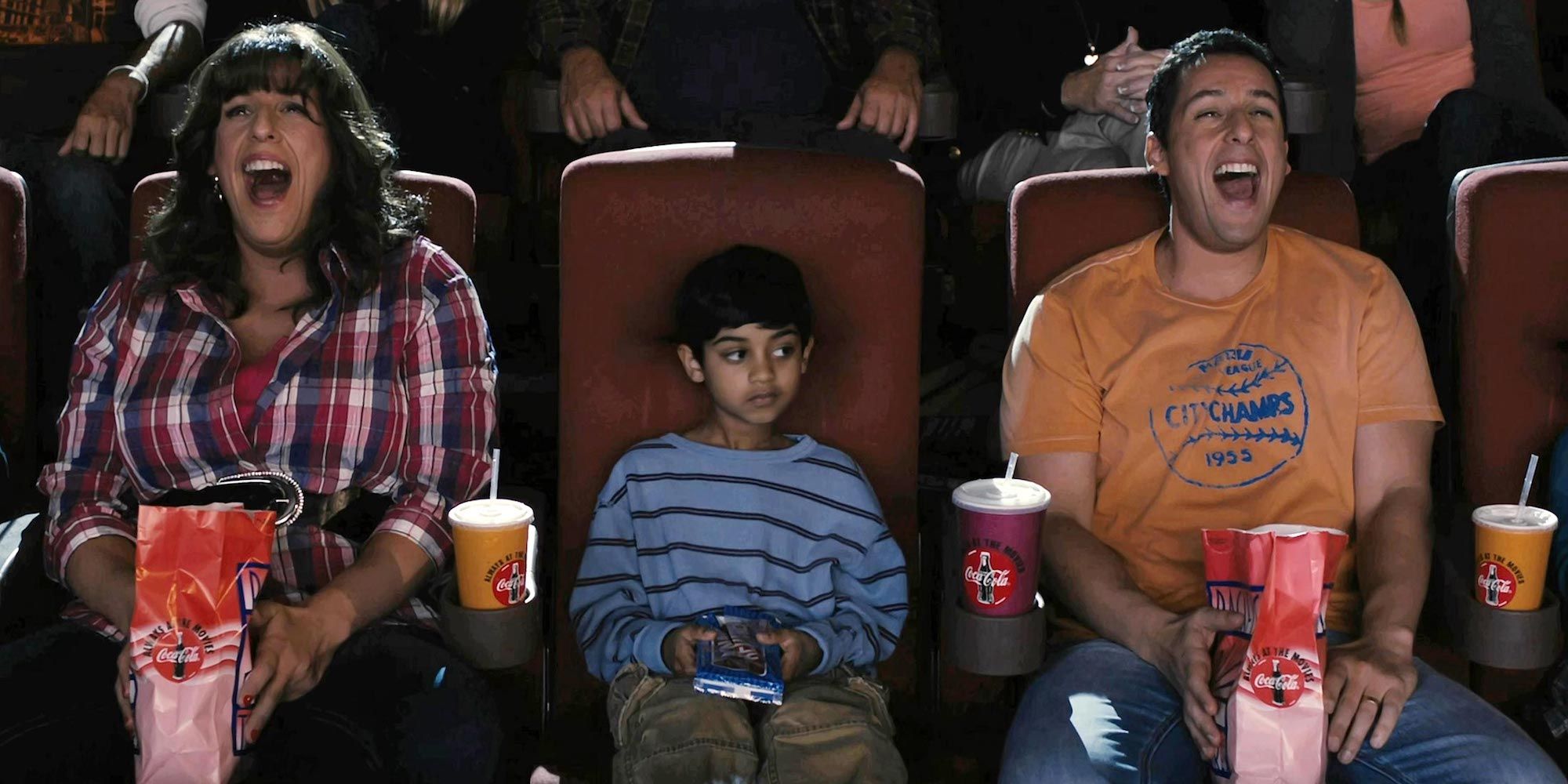 Jack and Jill is a 2011 comedy movie by director Dennis Dugan. Ad executive Jack (Adam Sandler) dreads the Thanksgiving holiday because that's when his twin sister, Jill (also played by Sandler), makes her annual visit. But after Jack and his sister clash, they decide to work it out by extending her stay through Hanukkah. Things are only complicated further when actor Al Pacino (playing himself) takes a shine to Jill, forcing Jack to keep his sister around longer to convince the legendary actor to star in his commercial.
Sandler played both titular roles in Jack and Jill. Jack is an ad executive and Jill is his lonely twin sister. Jill has no friends and her brother only invites her over at Thanksgiving. She's perceived as annoying due to her loud mouth, her oddball personality, and her dramatic overreactions, but she means well. Jill never intentionally hurts anyone's feelings; she's kind and caring and she always has people's best interests at heart. Though the movie was critically panned when it was originally released, there's no denying how much heart Jack and Jill has.
12
Zohan Dvir – You Don't Mess With The Zohan (2008)
"Dalia, I don't know how to tell you this. I cannot make sticky with anyone else."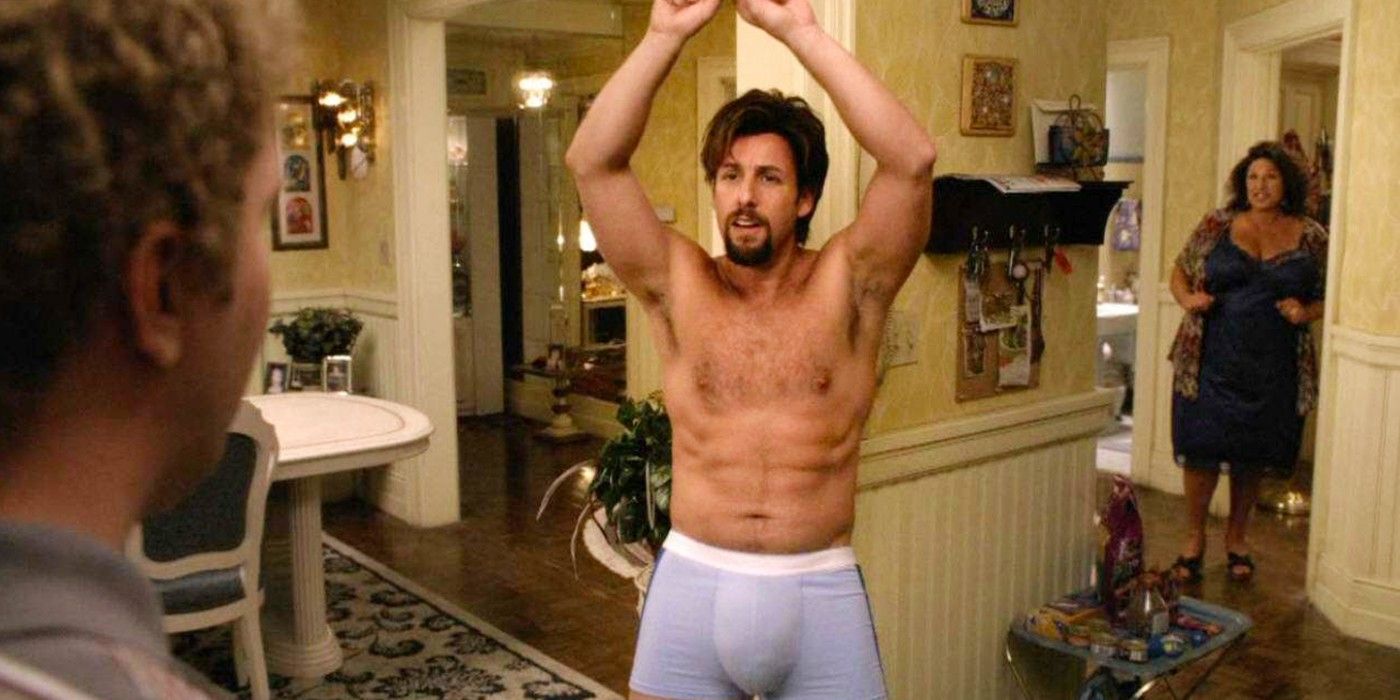 As an elite Israeli counter-terrorist turned hairstylist, Zohan's journey from catching terrorists to catching hair appointments in You Don't Mess with the Zohan is nothing short of ridiculous but hilarious. The character's desire to leave violence behind and follow his dream, even if it's as unconventional as cutting hair, gives the audience a unique and endearing protagonist. Scenes like Zohan's exaggerated fighting sequences and his genuine attempts to assimilate into American culture are comedy masterclasses. The character's insistence on offering more than just a hairdo to his elderly clientele and his motto of making the world silky smooth showcase both the humor and heart of Scrappy Coco.
11
Count Dracula – Hotel Transvylvania (2012)
"Human blood is so fatty, and you never know where it's been."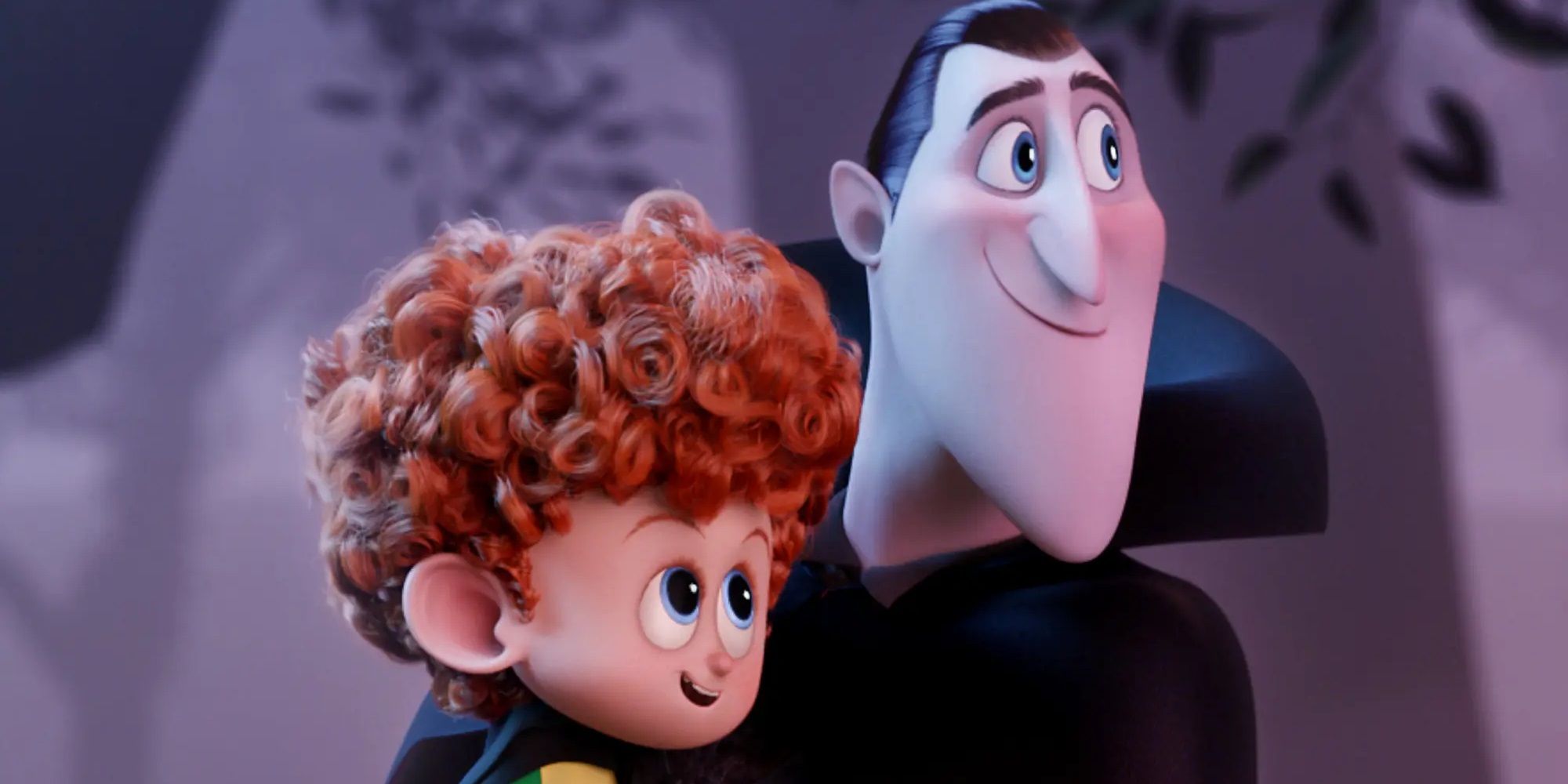 The first installment in the Hotel Transylvania franchise, Hotel Transylvania follows Johnny (Andy Samberg), a human who unwittingly wanders into the castle of Count Dracula (Adam Sandler) where he meets and falls in love with the Count's daughter, Mavis (Selena Gomez). Hotel Transylvania also features comedic reimaginings of various movie monsters including Frankenstein (Kevin James), the Wolfman (Steve Buscemi), the Invisible Man (David Spade), and the Mummy (CeeLo Green), in a family-friendly animated adventure.
Release Date

September 28, 2012

Director

Genndy Tartakovsky

Cast

Steve Buscemi, Fran Drescher, David Spade, Andy Samberg, Kevin James, Selena Gomez, Adam Sandler, Molly Shannon, CeeLo Green

Runtime

91 minutes
While not the typical live-action role Sandler is known for, his voice action as Count Dracula in the hugely successful Hotel Transylvania franchise is iconic. Though Dracula is typically a villain, the character is a loving father, overprotective, and struggling to come to terms with his daughter's independence, making him one of the most likable Adam Sandler characters. Sandler brings a comedic flair to the classic monster, making him both intimidating and lovable. Scenes of Dracula frantically trying to keep his daughter away from the human world, and finally opening up to accept change showcase the surprising depth and range of the character.
10
Nick Spitz – Murder Mystery (2019)
"You don't have to lie, just tell her to ignore when I'm lying."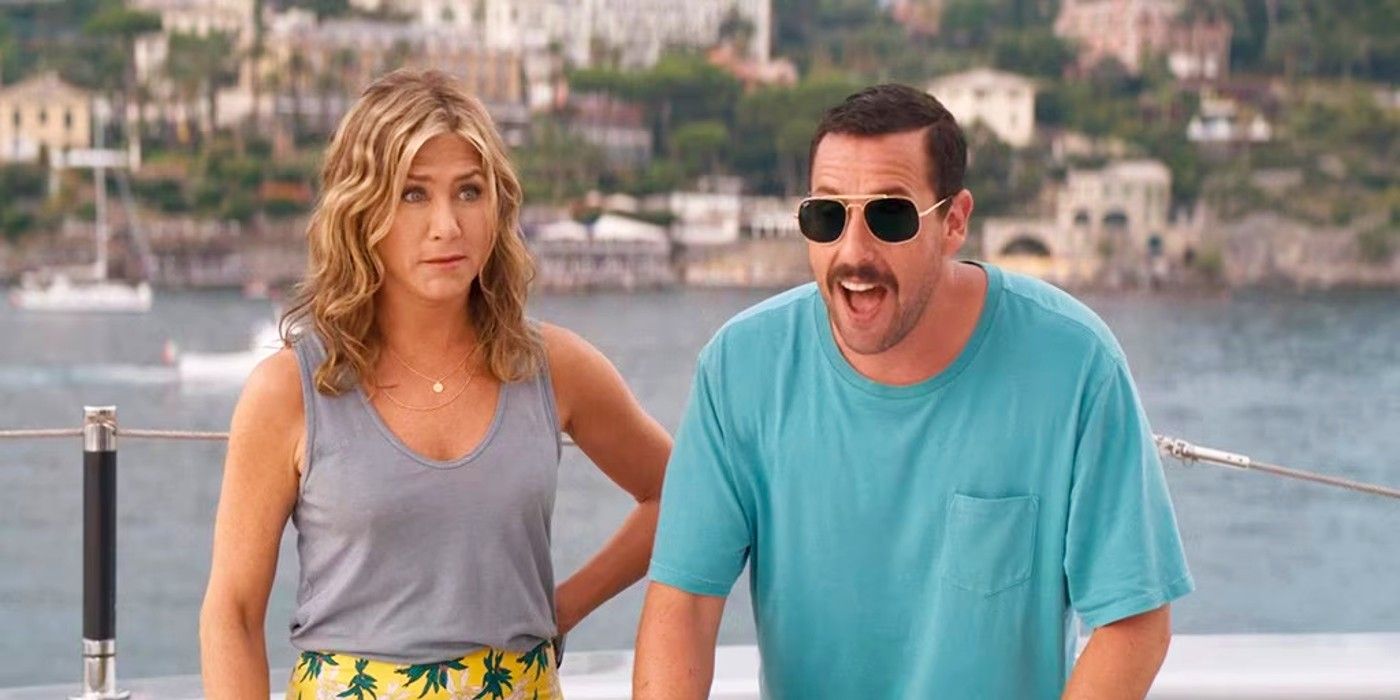 Adam Sandler and Jennifer Aniston star in the 2019 Netflix original movie Murder Mystery as Nick and Audrey Spitz, a married couple who take a European vacation that suddenly becomes a criminal investigation. Other members of the ensemble cast include Luke Evans, Gemma Arterton, Terence Stamp, John Kani, and Adeel Akhtar.
Release Date

June 14, 2019

Director

Kyle Newacheck

Cast

Adam Sandler, Jennifer Aniston, Gemma Arterton

Runtime

97minutes
In Murder Mystery, Sandler plays Nick Spitz, a New York cop who finds himself embroiled in a murder mystery while on a European vacation. What makes Nick one of the most iconic and likable Adam Sandler characters is his down-to-earth nature juxtaposed against the backdrop of high society and deadly intrigue. Even when surrounded by the glitz and glamor of a billionaire´s yacht and European estate, Nick remains relatable. Scenes where Nick tries to fit into high society, only to comically fail, perfectly exhibit his everyman appeal, and it's why the series is so successful. Murder Mystery 2 was released in 2023, and audiences want Murder Mystery 3 too.
9
Danny Friedman – You Are So Not Invited to My Bat Mitzvah (2023)
"Everybody in this house needs a shrink."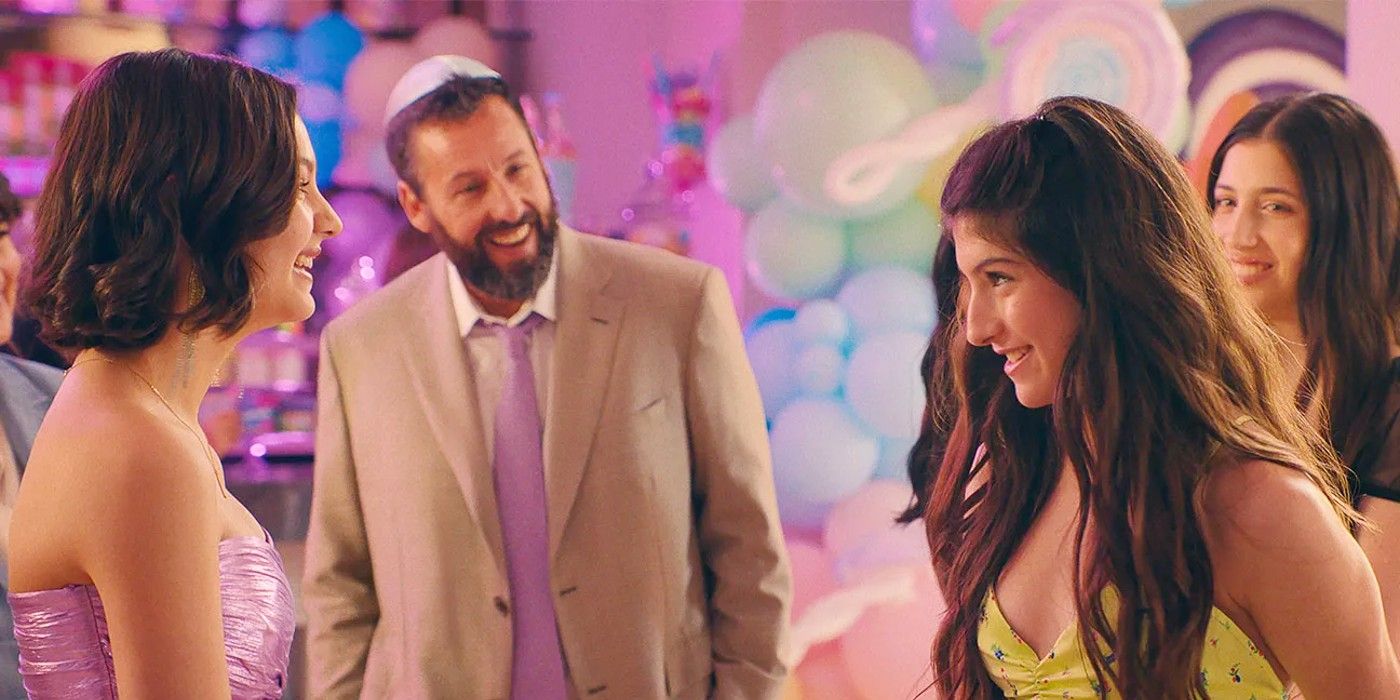 Based on the novel by Fiona Rosenbloom, You Are So Not Invited To My Bat Mitzvah is a comedy/drama that follows two best friends, Stacy and Lydia, who are on the cusp of their bat mitzvahs. The inseparable pair find their friendship threatened when a new boy enters the scene, and the all-too-expected middle-school drama continues to mount – leaving their dream bat mitzvahs hanging by a thread.
Release Date

August 25, 2023

Director

Sammi Cohen

Cast

Sunny Sandler, Samantha Lorraine, Idina Menzel, Jackie Sandler, Adam Sandler, Sadie Sandler, Dylan Hoffman, Sarah Sherman, Dan Bulla, Ido Mosseri, Jackie Hoffman, Luis Guzmán

Runtime

103 Minutes
You Are So Not Invited to My Bat Mitzvah ended a long trend of Adam Sandler Netflix movies being rated "rotten" on Rotten Tomatoes. The new Adam Sandler movie is critically acclaimed, as it's a touching coming-of-age dramedy about a teenage girl. Sandler plays the teenager's daughter, and it's one of the few times that Sandler has ever been sentimental or vulnerable in a movie, and it makes a refreshing change to other Netflix movies with Adam Sandler characters. The movie was only released in 2023, but Danny Friedman will undoubtedly be looked at as an iconic and lovable Sandler role.
8
Dr. Danny Maccabee – Just Go With It (2011)
"I want a flying pony, too, but they don't exist."
Just Go with It is a romantic comedy starring Adam Sandler and Jennifer Anniston that follows a plastic surgeon named Danny Maccabee and his office manager, Katherine Murphy. Danny, who uses his first failed marriage as a cover to meet new women, runs into one that infatuates him. After accidentally lying about his marital status, he jeopardizes his chances with the new woman. To fix it, he enlists the help of his office manager to pretend to be his wife in the midst of a divorce – opening the door for some romantic hijinks.
Release Date

February 11, 2011

Director

Dennis Dugan

Cast

Adam Sandler, Jennifer Aniston, Brooklyn Decker, Nicole Kidman, Bailee Madison

Runtime

117minutes
In the romantic comedy Just Go with It, plastic surgeon Dr. Danny Maccabee lies to women so he can have sex without making any commitments. He wears a wedding ring and makes up sob stories about being in a terrible marriage so women will feel sorry for him and sleep with him. Danny keeps the lie going when a woman he really likes finds his fake ring. He recruits his assistant and her kids to pretend to be his family. However, while the lengths he'll go to in order to deceive women are astounding, Danny ultimately learns that the sleazy lifestyle really isn't for him.
7
Paul "Wrecking" Crewe – The Longest Yard (2005)
"Now, listen here, Mr. Frodo, don't get short with me."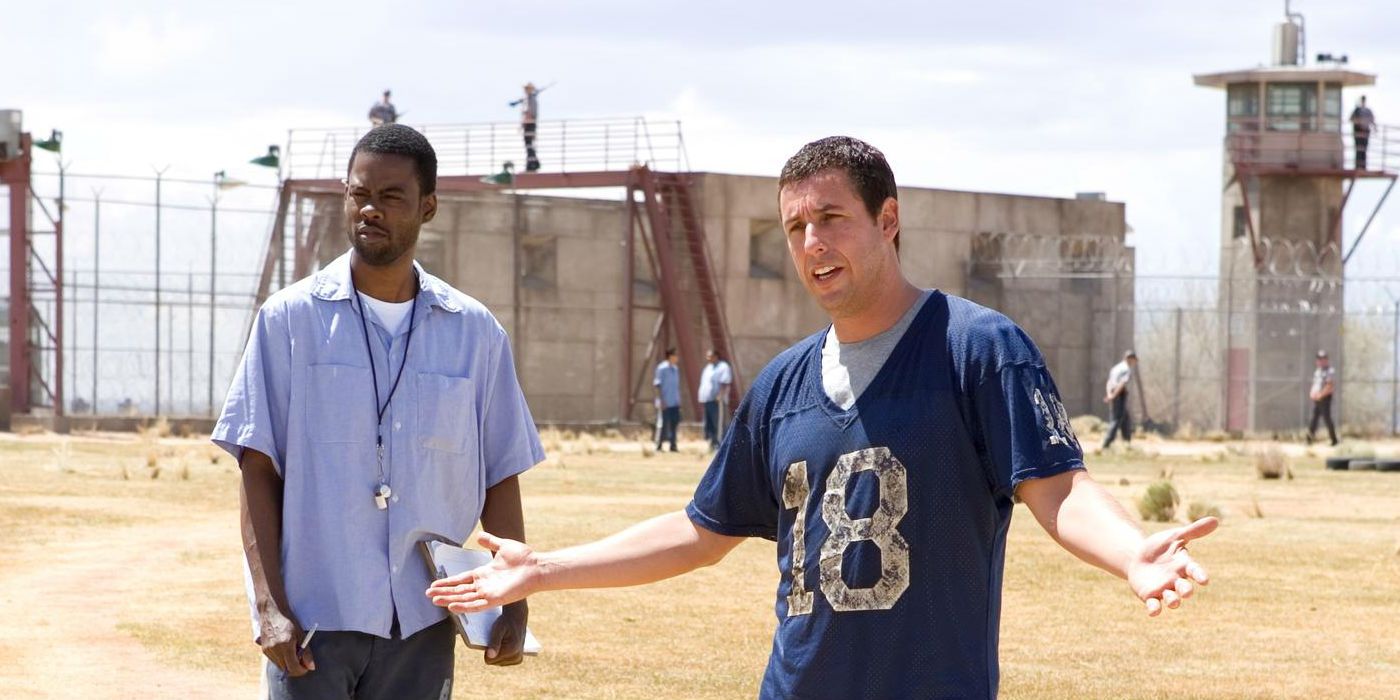 Release Date

May 27, 2005

Director

Peter Segal

Cast

Adam Sandler, Chris Rock, burt reynolds, James Cromwell, Nelly, William Fichtner, Joey Diaz

Runtime

113 Mins
Sandler took on Burt Reynolds' role in the remake of The Longest Yard. Paul "Wrecking" Crewe is a disgraced former NFL star who thinks the world revolves around him. At the beginning of the movie, after being politely asked to engage in a party, Paul steals his girlfriend's car, crashes it, and takes the police on a wild goose chase. However, the character becomes more likable behind bars as he assembles a football team made up of his fellow inmates, and he acts selflessly for the good of the team, making for one of the best Adam Sandler characters.
6
Billy Madison – Billy Madison (1995)
"Sometimes I feel like an idiot. But I am an idiot so it kinda works out."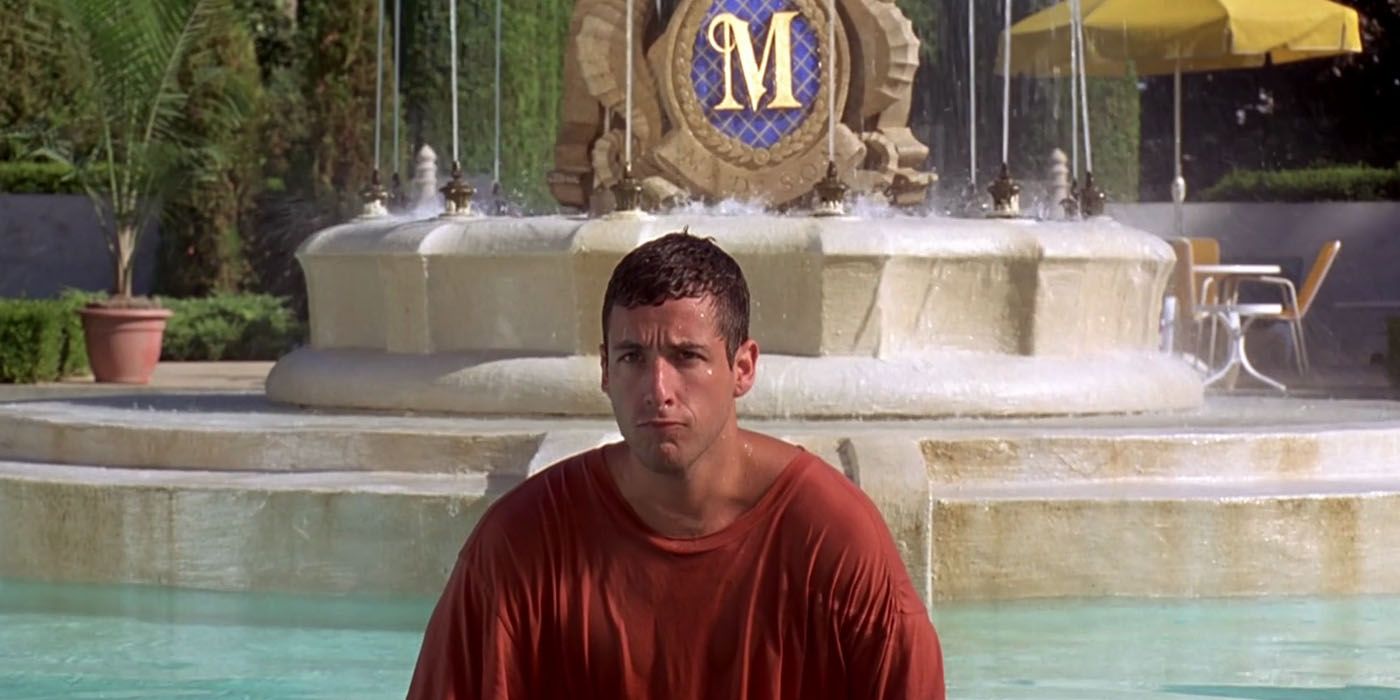 Directed by Tamra Davis and co-written by Tim Herlihy and Adam Sandler, Billy Madison is a Comedy film from 1995 that stars Adam Sandler in the title role. In order to prove himself a competent heir to a multi-million dollar fortune, Billy must return to grade school as an adult and navigate all 12 grades as quickly as possible.
Release Date

February 10, 1995

Director

Tamra Davis

Cast

Bradley Whitford, Adam Sandler, Chris Farley, Darren McGavin, Steve Buscemi, Bridgette Wilson-Sampras

Runtime

89 minutes
Billy Madison is a spoiled rich kid, who's the heir to a Fortune 500 corporation and enjoys a life of ludicrous luxury, and yet he never worked a day in his life. Billy didn't even finish his grade 1-12 education – the only work that people are legally required to do – until he was forced to go back to school at age 27 to prove he was competent enough to run his father's company. Just like a number of other Adam Sandler characters, Billy is completely unlikable and a bully at first, but he ends up learning from kids half his age and becoming an unlikely role model.
5
Happy Gilmore – Happy Gilmore (1996)
"You eat pieces of sh*t for breakfast?"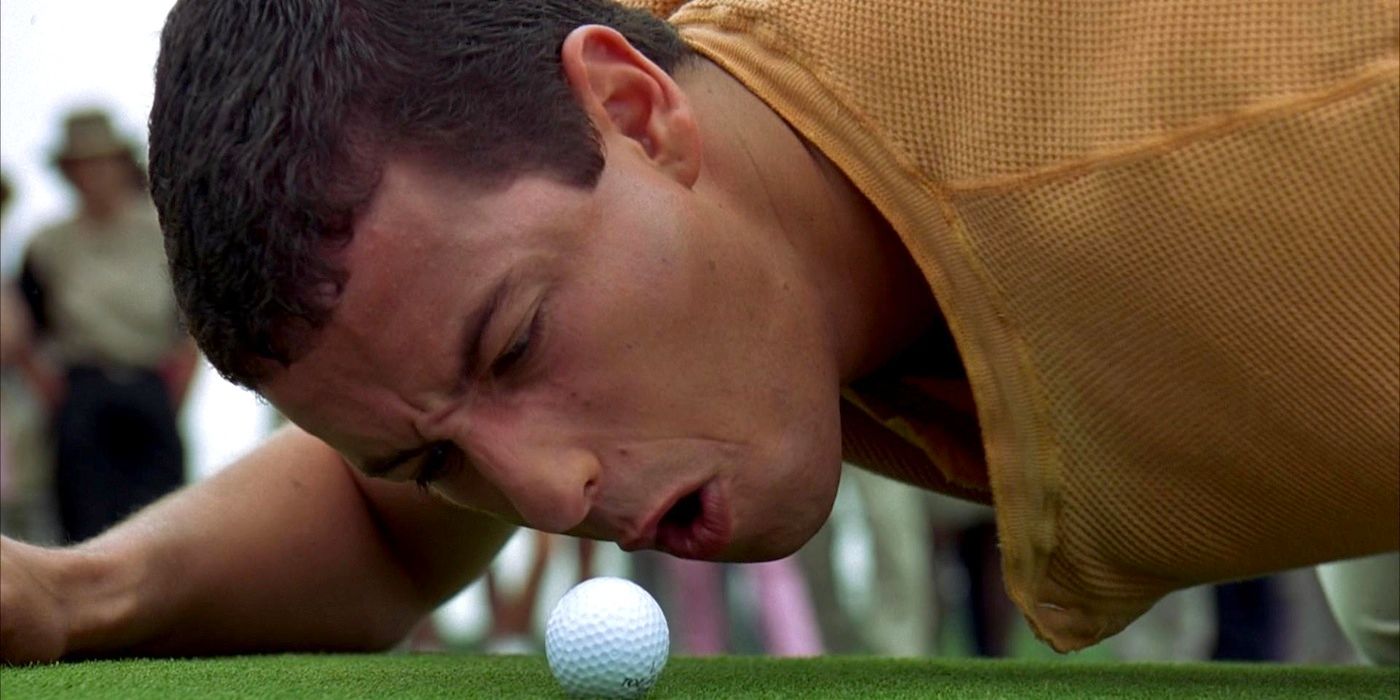 Happy Gilmore is a sports comedy that sees the titular Happy adjust to the world of Golf after failing to make it into Hockey. When he finds that his grandmother is nearly about to lose her home, Happy is discovered by a pro golfer who promises to train him to be one of the best after seeing his otherworldly slapshot. What follows is a new take on golf that completely upends the sport by turning it into a hilarious and chaotic spectator sport as this former short-tempered hockey player jumps into the world of professional golf.
Release Date

February 16, 1996

Director

Dennis Dugan

Cast

Carl Weathers, Julie Bowen, Frances Bay, Adam Sandler, Christopher McDonald

Runtime

92 minutes
Critics were wrong about Happy Gilmore, which sees the title character get increasingly volatile. He acts before he thinks and resorts to violence at the drop of a dime. When he believes his caddy is stealing his clubs, he punches the teenager in the face. Still, Happy's love for his grandma makes him endearing, and he's ultimately disgruntled because he's had a hard life and every other golfer looks down on him, which makes for a surprisingly interesting social commentary on the class system. Happy is only competing in a golf tournament to save his grandma's house from being repossessed. His selflessness makes him likable.
4
Barry Egan – Punch-Drunk Love (2002)
"I have a love in my life. It makes me stronger than anything you can imagine."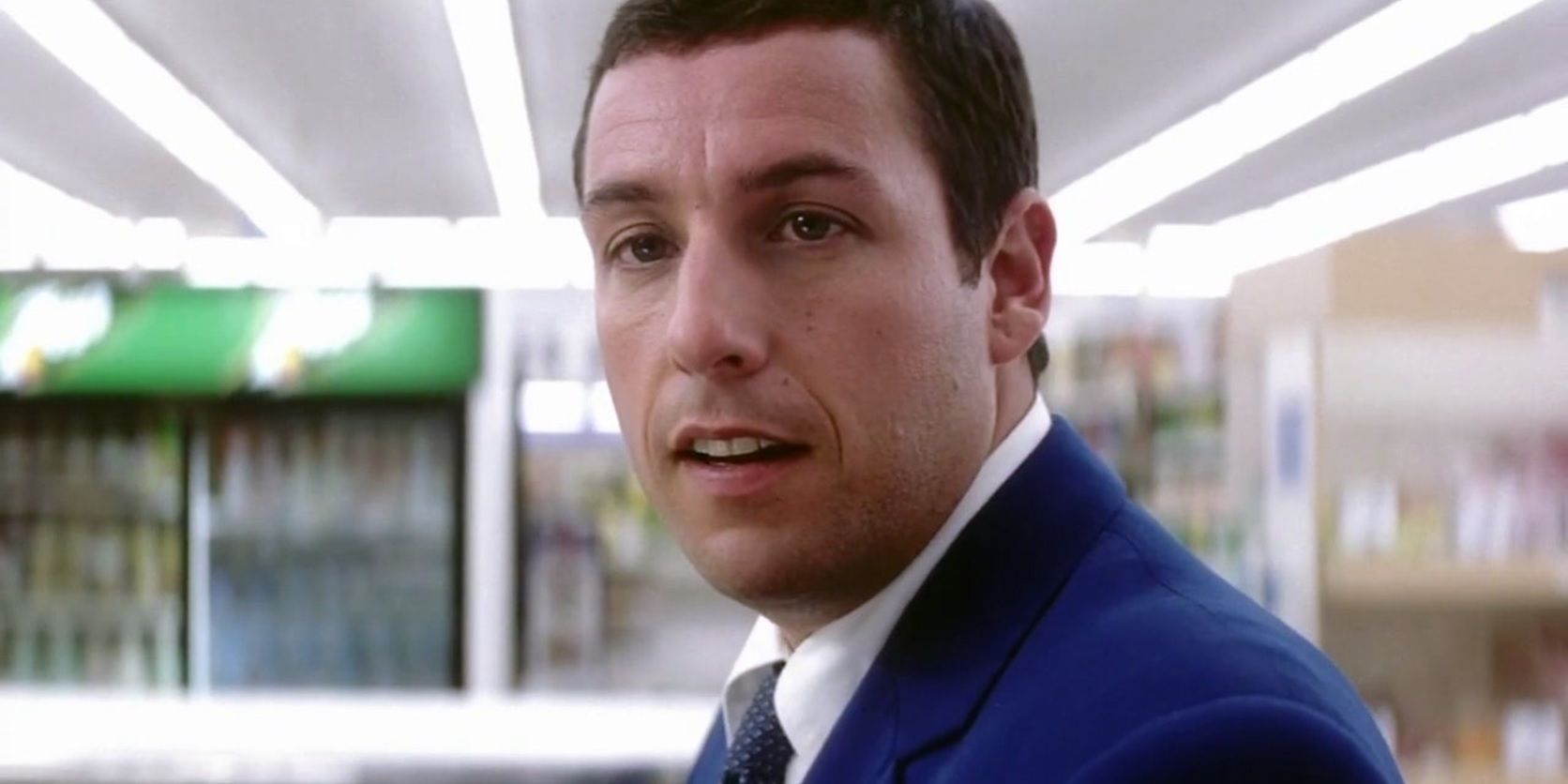 Punch-Drunk Love is a 2002 rom-com starring Adam Sandler, Emily Watson, and Philip Seymour Hoffman. Sandler stars as Barry Egan, the only boy in a group of eight siblings who his sisters always pick on. Despite being successful in life, Barry is lonely and decides to call a phone-sex hotline. But that makes things complicated with his sister's friend Lena who he thinks has a crush on him.
Release Date

November 1, 2002

Director

Paul Thomas Anderson

Cast

Robert Smigel, Mary Lynn Rajskub, Emily Watson, Adam Sandler, Luis Guzman, Philip Seymour Hoffman

Runtime

95 minutes
Paul Thomas Anderson gave Sandler his first acclaimed dramatic role in the half-true story Punch-Drunk Love. Barry Egan is a loner who longs for company and affection but doesn't know how to get it. He's mentally unstable, owing to severe emotional issues, and he's mercilessly bullied by his overbearing sisters. Barry is more pitiable than likable, but he starts to stand up for himself after finally finding love with his sister's co-worker Lena, making for not just one of the best Adam Sandler characters, but one of the greatest rom-coms of the 2000s.
3
Sonny Koufax – Big Daddy (1999)
"I would die for this kid just so he won't feel one ounce of sadness."
Big Daddy is a 1999 comedy film by director Dennis Dugan. Sonny Koufax (Adam Sandler) has gone the first 32 years of his life avoiding any responsibility. But when his girlfriend dumps him out of the blue and shacks up with an older man, he's confronted by the need to prove he's got a plan for life to win her back. As a strike of luck, 5-year-old Julian (Dylan and Cole Sprouse) is dropped off on his doorstep, and to impress her, he pretends to be Julian's father. 
Release Date

June 25, 1999

Director

Dennis Dugan

Cast

Adam Sandler, Cole Sprouse, Dylan Sprouse, Rob Schneider, Joey Lauren Adams, Jon Stewart, Allen Covert

Runtime

93 Minutes
In Big Daddy, Sandler plays underachiever Sonny Koufax, who takes in his roommate's estranged son. At first, Sunny just agrees to look after him until a foster family can be secured, but he ends up loving the child like Julian's his own son. Sonny goes to court to fight for the right to become Julian's legal guardian. Sonny's unconventional methods of teaching the boy, such as letting him choose his own name and teaching him how to trip rollerblades, make Sonny one of the most iconic Adam Sandler characters. This is one of the best examples of a Sandler man-child character learning from his mistakes and becoming a more responsible person.
2
Robbie Hart – The Wedding Singer (1998)
"I wanna make you smile whenever you're sad."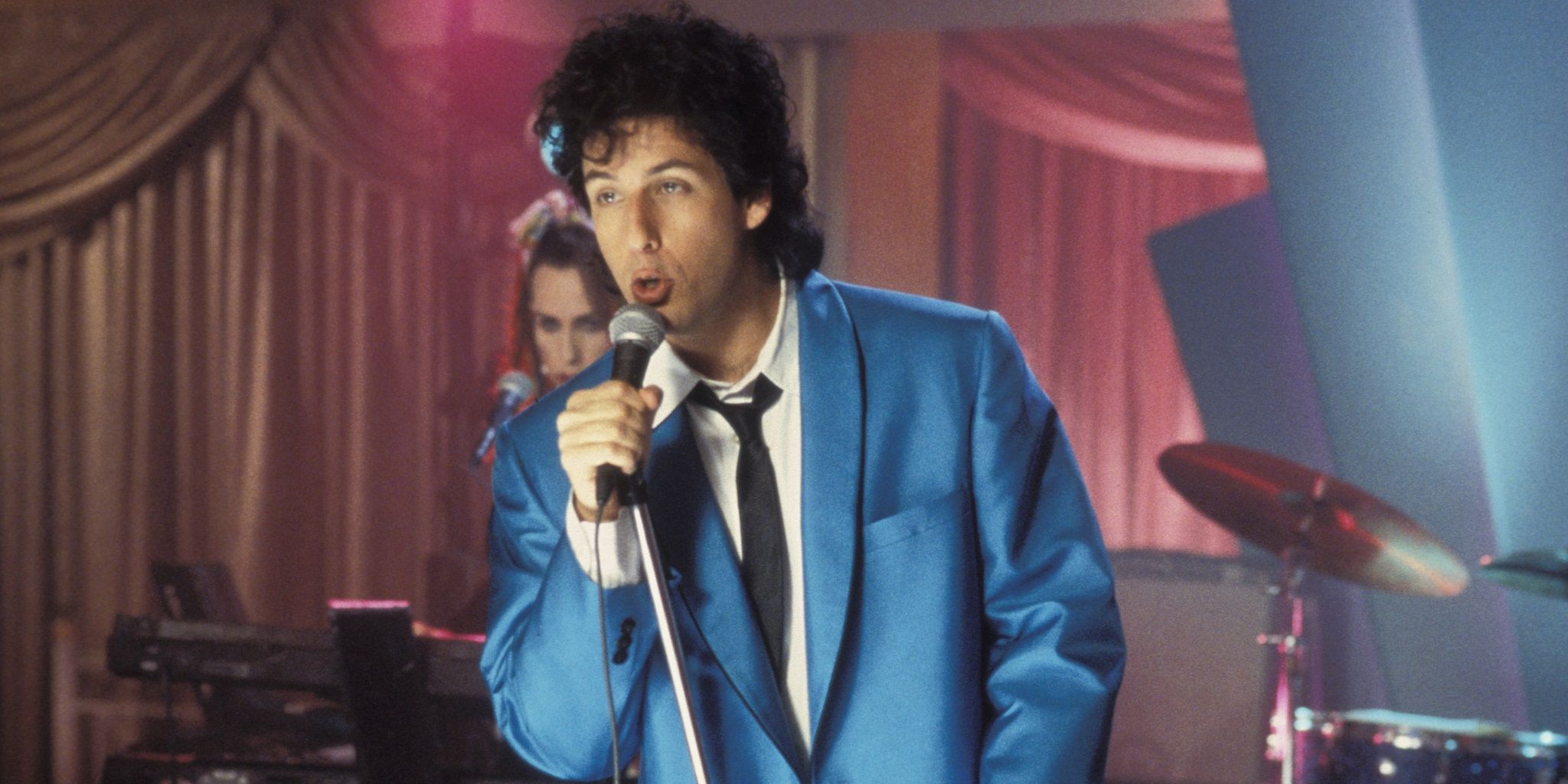 Set in 1985, The Wedding Singer sees comedy icon Adam Sandler play a nice guy with a broken heart whose misery is compounded by his job as a wedding singer. Jilted at the altar by his fiancée, he crashes hard, only to find love again when he meets Julia (Drew Barrymore), who asks for help planning her wedding. Then, the race is on to show Julia how he feels before her wedding.
Release Date

February 13, 1998

Director

Frank Coraci

Cast

Adam Sandler, Drew Barrymore, Christine Taylor, Allen Covert, Angela Featherstone, Matthew Glave, Alexis Arquette

Runtime

97 Minutes
There's a bittersweet irony in the characterization of the eponymous wedding singer in Sandler's first rom-com, The Wedding Singer. Robbie Hart is a hopeless romantic who sings at other people's weddings but can't find love in his own life. His prayers seem to be answered when he falls for a sweet-natured waitress played by Drew Barrymore. One of Robbie's most lovable traits is his ability to channel his emotions into his performances. When he's happy, he gets the whole room dancing. When he's devasted, he delivers hysterically melancholic renditions of love songs that showcase Sandler's comedic timing perfectly.
1
Longfellow Deeds – Mr Deeds (2002)
"All I want is your friendship, Emilio. You're a good man."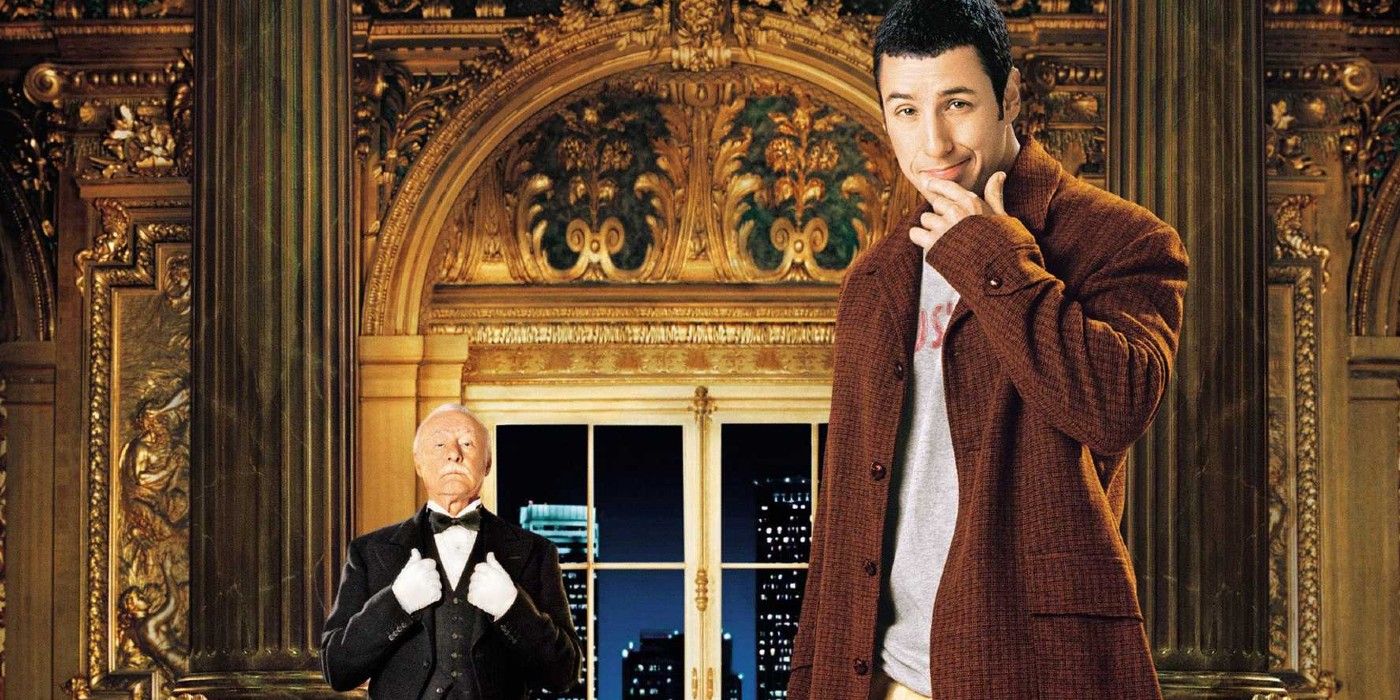 Mr. Deeds
In Mr. Deeds, Adam Sandler plays Longfellow Deeds, the lovable guy with a dream to make his fortune writing Hallmark cards. Life in the tiny hamlet of Mandrake Falls, New Hampshire is good, until a bombshell from two corporate executives informs him that he's impossibly rich after the death of a long-lost relative. Not only has he inherited 40 billion dollars but he also now owns the largest media company in the world, and th sharks are circling.
Release Date

June 28, 2002

Director

Steven Brill

Cast

Adam Sandler, Winona Ryder, John Turturro, Steve Buscemi

Runtime

96 Mins
Sandler played the title character in Mr. Deeds, a remake of Frank Capra's 1936 classic Mr. Deeds Goes to Town, which was based on Clarence Budington Kelland's 1935 short story Opera Hat. Longfellow Deeds is easily Adam Sandler's most likable character. He can't help but do good. Longfellow never thinks about himself and always thinks about other people. Deeds inherits a fortune from a distant relative, but he doesn't want a penny of it. He treats his servants as equals and lets homeless people use his shower. And in the final scene, he buys everyone in the town a Corvette.